Fill form to unlock content
Error - something went wrong!
Stay up-to-date with the latest IoT news.
Open RAN Hyperconvergence Brings More IoT Devices to Life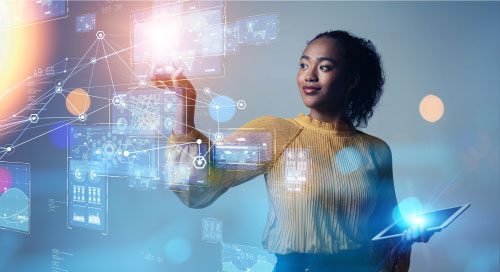 While analysts and researchers have had high hopes and expectations since the arrival of the Internet of Things, adoption and growth is not increasing as much or as fast as anticipated. For example, in 2010 researchers predicted 50 billion devices would be connected to the internet by 2020. Cisco said the same thing in 2011. But as of the end of last year, it was reported that there were in fact only 12.2 billion active endpoints.
It's not surprising we didn't reach those lofty goals. After all, how could we expect numbers like that without a coordinated, industry-wide effort around hyperconverged edge infrastructure?
Hyperconverged infrastructure refers to software-defined platforms built on commodity compute, storage, and networking hardware and running virtualized workloads. The concept was originally intended to reduce system cost and complexity in the data center, but its combination of flexible software and common hardware make hyperconvergence a fit for the notoriously varying data capture, analysis, and transmission requirements of IoT use cases.
Despite this, there hasn't been a concerted industry effort around developing and deploying hyperconverged infrastructure solutions to support IoT at the edge.
How IoT Stopped Standards in Their Tracks
The shortage of hyperconverged edge infrastructure isn't for lack of trying. More IoT initiatives than you can count have tried to standardize end-to-end architectures. They've failed.
The challenge has been joining the IoT edge and data center in a single, unified continuum. Where the data center consists of largely homogeneous, IP-centric communications infrastructure, the edge is built on a diverse array of embedded technologies and connectivity for application-specific sensing and control. To realize the benefits of hyperconvergence, the entire network would have to be redesigned to support the protocols, latencies, and resource constraints of both domains.
Since the initial wave of IoT standardization efforts that targeted the edge, cloud, or both, newer standards have started addressing the boundaries between them. For instance, open radio access network (Open RAN) technologies enable creation of intelligent, virtualized RANs that run on interoperable COTS server hardware.
Even IoT diehards may be unfamiliar with Open RAN technology as it's being spearheaded by mobile network operators who want to lower costs and accelerate deployment of 5G base stations. But IoT pros should become acquainted with Open RANs because they have the potential to seamlessly bridge the edge and cloud.
Abstracting #NetworkManagement into software lets operators adapt to real-time traffic demands and support features like network slicing that deliver the varying qualities of service (QoS) required by #IoT use cases. @Supermicro_SMCI via @insightdottech
Open RAN Hardware, Flexible Software Unify Edge and Cloud
Instead of specialized, proprietary baseband and radio components, Open RANs run software-defined radios (SDRs) and virtual network functions (VNFs) on top of hardware with open interfaces. Since the hardware is decoupled from network control and routing tasks, modular Open RAN software can be hosted on server platforms available from multiple vendors. The whole stack can then be deployed in disaggregated, distributed 5G architectures.
Abstracting network management into software lets operators adapt to real-time traffic demands and support features like network slicing that deliver the varying qualities of service (QoS) required by IoT use cases.
The abstraction also transforms the underlying server hardware into pools of disaggregated compute and storage resources that can host other workloads next to RAN functionality on the same physical infrastructure. This means public or private IoT networks can integrate software-defined technologies like multi-protocol label switching (MPLS), SD-WAN and secure access service edge (SASE) services, and edge computing in comprehensive, unified wireless edge access equipment.
"You talk about SD-WAN, you have SASE, you have Open RAN. A lot of these capabilities are reusable assets," says Jeff Sharpe, Senior Director of 5G and Edge AI at Supermicro, an IT technology company. "Instead of putting maybe 20 systems at the edge, why can't I put five or four or even one to do the capabilities of those additional systems? That's the type of gear our strong engineering talent is building—more workloads, higher throughput, and higher availability (HA) and NEBS compliance. Not just for the telcos, but really for the IoT sectors as well, whether it's smart cities or transportation or manufacturing. They all are looking for these heavy assets."
The Supermicro SuperEdge server portfolio was designed to accommodate high-density, hyperconverged edge networking by integrating three Intel® Xeon® D Scalable processor-based nodes in a short-depth (16.9²), 2U rackmount form factor. The Xeons bring up to 32 power-efficient CPU cores per hot-swappable node to provide up to 50 percent greater compute density than application-optimized servers (Video 1).
This performance can be extended by adding GPU, VPU, or acceleration cards via three PCIe 4.0 slots available on each node. SuperEdge Multi-Node servers can also be paired with the Intel® Distribution of OpenVINO™ Toolkit to optimize visual inferencing on computer vision workloads running at the edge.
Hyperconverged IoT Solutions Are Here to Beat Predictions
While it wasn't developed as an IoT technology, Open RAN architectures are poised to successfully scale more IoT deployments than any IoT standardization effort that's come before.
The SuperEdge Multi-Node server portfolio is already shipping into the Open RAN community, while other Super Micro customers are leveraging it on-prem for high-end SD-WAN, SASE, and industrial edge inferencing. But the true value of Open RAN is its ability to combine these modular software workloads on a single open interface server like SuperEdge that addresses the full spectrum of IoT and edge networking use cases.
"It can be placed either in the telco networks complementing Open RAN and multi-access edge computing (MEC) capabilities or moved to the edge for industrial applications like private 5G because the multiple nodes enhance separating the core and RAN functions and the actual services on one single system," Sharpe explains. "So they're looking at more compute power. Number two, in a very compact form factor. Number three is how do I grow this platform?"
To meet the demand for scalability, Super Micro will be adding four-node SKUs to the SuperEdge Multi-Node portfolio in the near future.
"The market is telling us there is a need for hyperconvergence at the edge," he adds.
For more information of the SuperEdge products, visit supermicro.com/superedge or Super Micro IoT SuperServer.
This article was edited by Christina Cardoza, Associate Editorial Director for insight.tech.