Fill form to unlock content
Error - something went wrong!
Your content is just a step away. Please submit below.
ITS Puts Smart Cities in High Gear with 5G and Edge AI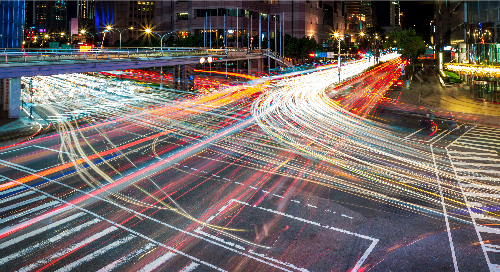 Remarkably, Intelligent Transportation Systems (ITS) got their start back in the 1960s when the U.S. Federal Highway Administration began developing the Electronic Route Guidance System, or ERGS. The system used a two-way device on vehicles, intersection hardware, and some of the first computerized central IT systems to analyze weather and traffic conditions, then provide motorists with the best directions to their destination.
Fast-forward more than 50 years, and ITS are being positioned as the backbone of smart city infrastructure, delivering traffic management, commuter notification, public safety, and countless other services. They're even being designed to accommodate autonomous vehicle travel by natively supporting vehicle-to-everything (V2X) communications that connects over wireless radio access networks (RANs).
Of course, supporting these services means the existing transportation management infrastructure needs an overhaul. For instance, you can't analyze and act on dynamic traffic flows in time to avoid traffic jams without edge AI, and you can't run edge AI without sufficient edge computing. Autonomous vehicles require V2X connectivity to communicate with one another and roadside traffic management systems, but you can't support V2X communications without an ultra-reliable, low-latency network like 5G.
Traditional ITS can't support either.
"The platform needs to provide a seamless infrastructure for deploying applications that require low latency, high-performance compute, and high reliability at the edge in smart city or connected highway environments," says Charo Sanchez, Global Alliance Manager at Advantech, a global leader in IoT and networking platforms. "When we talk about edge here, we're talking about the far edge—on the highway or mounted to a traffic light—the closest to the traffic agent, vehicle, or pedestrian that you can get."
Sanchez adds, "Apart from the connectivity, you also need to integrate the AI part where you can extract relevant data, process that data, and act on it on site."
"Apart from the connectivity, you also need to integrate the #AI part where you can extract relevant #data, process that data, and act on it on site." – Charo Sanchez, @Advantech_USA via @insightdottech
Smart RSUs: Bringing it Together at the ITS Edge
To help bring ITS infrastructure in line with today's smart transportation and smart city requirements, Advantech collaborated with Capgemini and Intel® to create the 5G Smart Road Side Unit (RSU).
The 5G Smart RSU is a multi-access edge computing (MEC) platform deployable as a highly localized, disaggregated node that brings 5G and AI capabilities to the far edge of ITS networks. Built on hyperconverged, Intel-based Advantech SKY-8000 Servers and the Capgemini ENSCONCE framework, it also saves ITS engineers from having to build those complex edge nodes from the ground up.
Another advantage of the 5G Smart RSU is the cloud-native environment it provides for microservice development, deployment, and delivery. This is streamlined by the Intel® Smart Edge Open software toolkit, an open-source development suite that provides plugins, integration recipes, and other components to help ITS developers merge IoT workloads with the 5G wireless infrastructure.
It even contains reference implementations to further accelerate development and delivery of connected edge applications.
"Intel Smart Edge Open helps accelerate time to market and streamline complex network workloads by using reference architectures optimized for Intel hardware," Sanchez explains. "It provides basic developer tools for integrating common multi-access edge computing use cases."
From that foundation, the 5G Smart RSU gives developers access to a range of additional tools and capabilities for next-gen ITS rollouts. At Mobile World Congress in February/March 2022, the three partners demonstrated a pedestrian safety application built with the Intel® OpenVINO™ toolkit visual computing SDK integrated in the Smart RSU software stack. In it, video of an unexpected street crossing is analyzed by AI algorithms running locally on the Smart RSU, then real-time alerts are issued to nearby motorists and pedestrians to help prevent a potential accident.
Going further, the partners showed how information captured by all the sensors connected to a Smart RSU can be used to create digital twins that help continuously evaluate and improve current infrastructure as well as test new technologies prior to full investment.
The Evolution of Smart City ITS
Roadways are the arteries of a smart city, and they must be optimized to keep urban centers humming. This means the ITS that manage them must evolve to support capabilities like 5G and edge AI—a transition that's made seamless thanks to full-stack partnerships and development solutions like Smart Edge Open.
Hyperconverged endpoints like the 5G Smart RSU offer a path forward for smart city transportation infrastructure, whether it's decades old or already supports features like V2X functionality via an ad hoc assortment of cobbled-together networks and systems.
"This is how to consolidate all those functions in one single platform, virtualizing the roadside unit, and running it on standard x86 hardware," Sanchez says. "That streamlines how you manage the whole solution and gives extra room for innovation and functionality to deliver additional traffic services. This is an evolution of roadside units with the Advantech edge server operating as a micro datacenter at the ITS edge."
This article was edited by Georganne Benesch, Associate Editorial Director for insight.tech