Your Guide to Dell Technologies World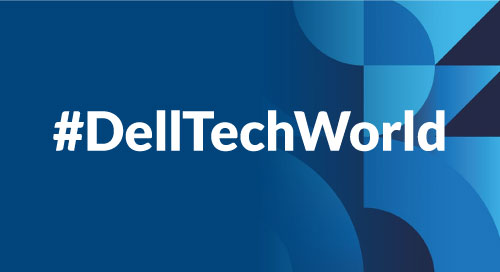 Want a first look at the latest in AI, ML, and edge-to-cloud technologies? Come to Dell Technologies World 2021 on May 5-6. At this free virtual event, you'll connect with technology gurus, engage with interactive demos, and hear from thought leaders. Register today and read on for our list of must-see events.
Grow Your Edge Compute Toolbox
Discover how Dell's embedded next-gen technologies can give you a leg up in the session Designing Industry-Grade Platforms for Performance and Remote Management at the Edge.
For even more, see how Dell PowerEdge computing helps customers innovate with advanced compute technology for AI and the Edge. You'll find out in the session Discover the Dell Technologies Innovations That Power the Next-Generation PowerEdge Servers.
Take a deeper dive and get all the details on the Intel® 3rd Gen Xeon® Processor—the power behind the latest Dell PowerEdge servers. Add this session to your must-see list: Discover How Next-Generation Processors Can Boost Your Key Workloads to learn how the latest Intel® processors enable optimal data access, performance, and security.
While we're on the topic, dynamic hardware security helps IT departments become less reactive and more strategic as they build resilience against threats. Check out the on-demand session Secure by Design: Delivering Results While Relieving Pressure to learn more.
#DellTechWorld 2021 is your free pass to the client, #ML, edge, and enterprise compute technologies that are unlocking the possibilities of our data-driven world.
AI at the Industrial Edge
It may go without saying, but we're saying it anyway. There's no Industry 4.0 without edge AI. This makes the live session Advancing Industrial Intelligence: Getting New Insights at the Edge with AI a must-attend. See how AI-powered edge technologies bring innovation on the factory floor—and beyond.
Another don't-miss session is Get Smart: Intelligent Solutions at the Industrial Edge. Here Dell, VMware, and PTC discuss how a smart, scalable, end-to-end design approach can transform manufacturing operations.
Way out on the edge you'll find this on-demand case study: Edge Computing and AI Help Keep Trains Running Safely. Hear how using edge compute, advanced real-time analytics, and AI to monitor rail cars is keeping railways safe.
Technology's Real Impact
Technology trends have implications for the way we live and work, connect with one another, the global economy, and beyond. In this guru session Shaping The Data-Driven World, Dell Technologies CTO John Roese and entrepreneur Jennifer Zhu Scott explore the wide-reaching impact of high tech.
COVID has certainly shaped the world, and nowhere as it has in healthcare. An expert panel shares its knowledge in the session Accelerate Digital Transformation for Healthcare-Life Sciences with a Modernized Technology Strategy.
The retail market—also hard hit by the pandemic—is fraught with challenges. There's a lot to learn from M3T, which in collaboration with Intel is tackling these challenges—for today and tomorrow. Tune in to A Retail Journey — The New Normal to see what they're up to.
Finally, your edge-to-cloud deep dive won't be complete without a brief history of Intel's 25-year partnership with Dell. Spend a few minutes watching the Interview with Navin Shenoy, Intel Exec VP and GM, Data Platforms Group, and find out what this longtime collaboration means for you.
Dell Technologies World 2021 is your free pass to the AI, ML, and edge compute technologies that are unlocking the possibilities of our data-driven world. Come see how you can harness their transformative power—and be ready for whatever comes next. Sign up today!