What to See at embedded world 2020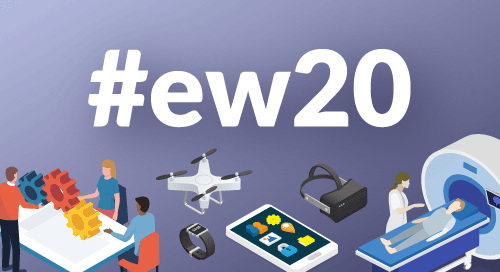 UPDATE: insight.tech has made a difficult decision to withdraw from this year's embedded world due to the ongoing coronavirus outbreak. We will no longer be providing coverage of the event.
It's right in the name: embedded world 2020 is one of the planet's top shows for embedded and IoT developers. Running February 25 – 27 in Nuremburg, the show boasts more than 1,100 exhibitors and dozens of conference sessions.
To help you catch all the action, I'll be covering the show in person. Follow @insightdottech on Twitter for daily blogs, videos, and updates from the show floor. And check out the official insight.tech embedded world 2020 page, where you can find sneak previews of the tech I'll showcase.
We've also put together the following preview of the show. We hope you find this helpful—whether you want to plan your time at the show, or are just curious about what's to come.
Get Your Free Registration and T-Shirt
First up, you'll need to register for the event—and we've got you covered. Use voucher code ew20web to get a free pass for the expo.
Once you're in, swing by our partner OpenSystem Media's booth, Hall 5 / 5-341, for a free insight.tech t-shirt!
Learn from Expert Panels
Major themes of embedded world 2020 include new approaches to AI and machine learning; ideas for working in multi-OS environments; and the increasing complexity of safe, secure design. To set the context for these big ideas, I recommend checking out what are sure to be lively panel discussions.
You can start with the panel I'm hosting, AI at the Industrial Edge. This group of industry leaders will look at the challenges to building a smart factory—from fragmented toolsets to ancient hardware—and lay out techniques for overcoming these hurdles. Seats are limited, so reserve your spot now.
Check Out the Conference Tracks
With dozens of sessions on AI, Vision, Security, and all things IoT, the conference tracks are a great place to learn. Here are a few highlights:
Get the @insightdottech preview of the coolest tech coming to @embedded_world
Discover the Latest Tech on the Show Floor
The embedded world 2020 exhibit is huge, spanning seven massive halls. Here are some of the highlights you'll want to check out:
Easy-Start AI
It's no secret that AI is complicated. But turnkey solutions like the UDOO X86 BLACK Vision AI Developer Kit can make things simpler. Pre-configured with a camera, Intel® Movidius™ vision processor, and Intel® OpenVINO™ vision software, this kit is ready to go out of the box.
See it demoed for emotion detection (neat!) at the SECO booth, Hall 1 / 1-330.
Scalable AI
Another big AI challenge is that there are so many applications with wildly different needs. That's where the VHub AI Developer Kit comes in. Based on Intel OpenVINO, this kit is available in a wide array of configurations from a basic embedded PC to an ultra-high-performance industrial server.
See all the possibilities for yourself at the Vecow booth, Hall 1 / 1-440.
Rugged AI
Speaking of challenges, many AI deployments target harsh environments. The Rugged Server Inferencing Engine
TR H4x/3sd-RCx was built with these tough conditions in mind. Combining a 12-core Intel® Xeon® with an Intel® Altera® FPGA, this 3U XPV board is ready for anything you can throw at it.
Find out what makes it so sturdy at Concurrent Technologies booth, Hall 1 / 1-519.
Smart Factory Vision
All this AI tech is great, but what can it do in practice? In a smart factory, vision applications are nearly endless, ranging from simple object detection to complex completeness checks. And with the latest tools, developers can create any of these applications with speed.
Swing by the AAEON booth, Hall 1 / 1-350, to see a showcase of the many possibilities!
Eyes on the Road, and the Driver
What if commercial vehicles could keep an eye out for driver fatigue and monitor the road ahead for hazards? Through the twin powers of AI and workload consolidation, now they can!
Head over to the IEI booth, Hall 1 / 1-368, to see how the company squeezed two high-performance vision applications onto its ITG-100AI embedded platform.
One Vehicle, Many OSs
The idea of workload consolidation goes beyond combining applications—you can also put multiple OSs on one machine! In another demo that features commercial vehicles, Lanner has combined everything from vehicle surveillance to payment systems on its V6S vehicle computer.
Discover how they put it all together at the SPINX booth, Hall 1 / 1-140.
Multi-OS Dev Kit
Looking for an easy way to make your own multi-OS platform? A Workload Consolidation Kit might be just the thing. We have an article coming with all the details—stay tuned.
And then you can see it in person at the Congatec booth, Hall 1 / 1-358.
Integrated Facial Recognition
Of course, embedded world 2020 has more to it than industrial and rugged technology. There is also plenty of tech for retail, hospitality, and other sectors. One example you'll want to see is a demo that sees you: the AIR-100 inference system. This signage player comes with the FaceView app, which is optimized to use the onboard Intel Myriad X VPU.
See how you can use the included SDK to create your own innovative AI at Advantech booth, Hall 1 / 1-338.
…And All the Other embedded world 2020 Tech
That's a long list, but it barely scratches the surface. To get live updates from embedded world 2020, follow @insightdottech on Twitter. And bookmark our embedded world 2020 special coverage for breaking news as it happens!