IoT Solution Factory Builds System Integrator Growth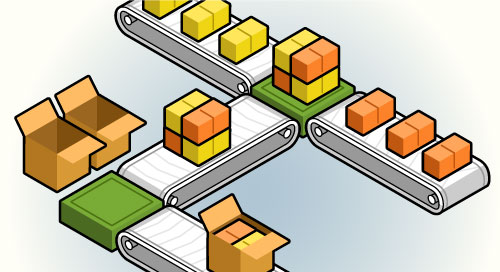 An African proverb says, "If you want to go fast, go alone. If you want to go far, go together." This sentiment is true in business as IT and OT converge to blaze new trails with the use of next-generation technologies. IoT isn't just transforming how enterprise does business; it's changing organizational culture. Silos are coming down and the IT department is connecting with operations through the use of new technologies that enable companies to create innovative, forward-thinking solutions.
Systems integrators (SIs) must find new ways not just to keep up but to get ahead of these changes. It's essential that they bridge the gap by serving IT teams working in corporate offices as well as OT teams walking factory floors. A meeting of the minds takes depth of knowledge of both groups' functions, needs, and goals to achieve digital transformations that customers require.
The speed of innovation and a new organizational culture can make an SI's job difficult, and Solution Aggregators can help. At the forefront of the convergence of IT and OT, aggregators serve as the epicenter of the latest products and solutions. They can provide SIs with tools they need to serve organizations across the board, helping them be more nimble, efficient, and competitive.
"The market is changing, the decision-making process is changing, and the needs of customers and end users are changing, too," says Gabor Takacs, EMEA business development executive at Tech Data. "Aggregators have access to the vendors, products, and end-to-end solutions that can address those changes."
Taking the Complexity Out of IoT Projects
As an Intel® IoT Solution Aggregator, Tech Data has next-generation technologies that help SIs solve their customers' challenges. A global company with a robust partner ecosystem, it adds value beyond the role of traditional distributors. For example, its Solution Factory provides a comprehensive get-to-market methodology, combined with a portfolio of scalable, proven solutions (Figure 1). Tech Data curates IoT technology from its best suppliers and vendors to deliver deployable, vertical-specific outcomes.
"We see a lot of science projects in IoT, which cost time and money, but don't deliver revenue. We ensure that solutions are repeatable and scalable." —Lisa McGarvey, Tech Data
"A lot of our solutions include multiple vendors," says Lisa McGarvey, Tech Data director of solution development for IoT and data solutions in the Americas. "Our role is to vet and work with vendors and build technically viable end-to-end solutions—ensuring they are channel-ready, repeatable, and scalable. Before we do that, we make sure there's a market for the solution. A lot of research goes into understanding the problems a solution solves and the market it serves."
Solution Factory reduces the complexity for SIs and decreases their time to revenue. It also reduces an SI's cost because Tech Data has invested in the ecosystem and identified the best solutions by assessing each tool based on concept, interoperability, design, and scalability. And a big part of its solution strategy incorporates Intel® IoT Market Ready Solutions and Intel® IoT RFP Ready Kits—market-proven, use-case-focused technology bundles for industry verticals.
"We know that every partner, every SI, every customer of ours out there has a unique domain experience," says McGarvey. "But where we drive value is bringing all of the best components together. We see a lot of science projects in IoT, which cost time and money, but don't deliver revenue. We ensure that these solutions are repeatable and scalable. Intel® has helped tremendously by providing support."
As we have seen recently, marketplace needs can turn on a dime, and aggregators like Tech Data have the unique ability to quickly bring together new and necessary solutions. McGarvey says aggregators must always have their fingers on the pulse of what's going on in industry right now. To address the challenges of the pandemic, for example, the company designed more than 20 new solutions focused on helping businesses reopen, while protecting employees and customers.
"We quickly pivoted, onboarded some new vendors, created new solutions, and took some of the solutions that we had and adapted for the new norm," says McGarvey.
Business Growth Through IoT Applications
Having the right technology is the first step. Tech Data provides further value with Practice Builder, a program designed to help SIs learn how to grow their customer base and business, as shown in Figure 2.
"Practice Builder is really the methodology of how we help partners accelerate their IoT business," says McGarvey. "We help SIs understand how to monetize IoT. We start by asking them to select a solution, and we help them bring that solution to market in 90 days, developing a marketing strategy and training around it. For us, Practice Builder, in conjunction with working with Intel, has been helpful in accelerating sales for our partners."
The program helps SIs address the culture change that IoT is bringing to companies. The decision-makers are now people outside of the IT department, which can change the sales and purchasing structure. In classical IT decision-making, the goal is optimization, but for an OT decision-maker, the key goal is to keep manufacturing running and avoid risk. To be successful, you have to execute on both goals.
"Practice Builder is a great tool because it helps change the mindset around new priorities," says Takacs. "SIs have to understand the goal of an operational, technology-related decision-maker. If we know their goals, then we can deliver the right IoT solutions to support them."
By leveraging partnerships with aggregators, SIs can go farther than they could go alone. And they can provide complete solutions that accomplish an organization's shared goals—all at the speed of innovation.