Fill form to unlock content
Error - something went wrong!
Stay up-to-date with the latest IoT news.
Safer Communities with Analytics at the Edge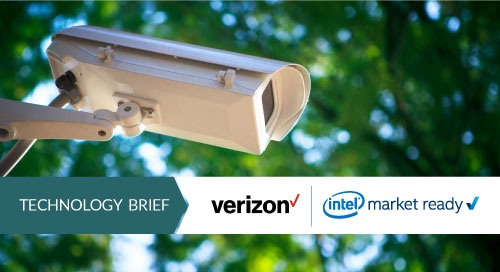 More than half the world's population consists of cities, with another 2.5 billion residents expected to be added by 2050, according to a recent report by McKinsey. As urban centers expand, city leaders are dealing with a growing array of issues related to quality of life, safety, and infrastructure.
Some of the most innovative cities are looking to new digital technologies to meet these challenges and deliver better experiences for both residents and visitors at a sustainable cost.
Smart city solutions leverage edge computing, cloud-based software, artificial intelligence, and existing infrastructure to improve decision-making and allocation of resources, and help better serve citizens. And as 5G is deployed all over the country, additional smart city solutions previously not feasible will help improve a city's ability to improve citizens' quality of life.
Many municipalities opt to start with areas where they can achieve a more rapid return on their investment. For example, citywide deployments in smart lighting can lower energy consumption, and installation of smart traffic control can reduce congestion and improve air quality.
But protecting people and public locations is a growing challenge, especially where resources are tight and budgets are limited. Deployment of intelligent video systems can capture images, process them with AI, and deliver near real-time critical information to authorized personnel. It helps cities make the best use of both technology and human resources, enabling law enforcement to focus more on preventing and responding to suspicious activity.
McKinsey found cities that use data and technology to make better decisions have been able to reduce crime by up to 40 percent and offer up to 35 percent faster emergency response times. As well, new video surveillance technologies that use features like facial and license plate recognition, people counting, and object detection can further improve security. To learn more about AI-enabled computer vision solutions, read how the Houston Super Bowl LI Host Committee promoted fan safety.
Yet cities often don't have budgets for large capital investments, and past deployments haven't always produced expected return on investment.
"As much as technologists want to deploy cool things, city leaders want to solve their community problems, and they ultimately need to do it in a budget-conscious manner," said Dan Foster, Distinguished Architect of IoT Solutions at Verizon Smart Communities.
Remote Surveillance Can Help Reduce Park Trespassing and Vandalism
Verizon helps municipalities use IoT technologies with its Intelligent Video solution, which can be deployed almost anywhere without additional network infrastructure, making it ideal for hard-to-reach locations. The system makes it possible to keep eyes on remote properties in near real time, saving additional human resources and financial investments that would be required to monitor vast amounts of video footage.
One example of the solution in action is at a historic landmark and natural park that had been the target of continuous unsightly graffiti. Visitors began to avoid the area because of what they saw as a blight to nature.
After repeated and ineffective attempts to remove the graffiti—a task that required closing the park for removal with up to $200,000 in expense per closure—Verizon Smart Communities was brought in to help solve the problem.
Verizon deployed smart cameras to remotely monitor the area, including gates, trails, rocks, water, and other objects. With an advanced analytics engine, the solution distinguishes these various points of reference to better identify human-like figures whose actions are out of context with expected behavior.
Once suspicious activity is recognized and images are captured, the system triggers alerts to security personnel for further investigation. In general, this process can reduce the potential for false alarms that result from, for example, wildlife, and helps to identify only the relevant clips.
In this case, the Verizon solution allowed for maximized surveillance with limited staffing. As a result there was a significant reduction in graffiti and its associated cleaning fees. And park management achieved an immediate return on investment, while visitors experienced greater enjoyment of the historic landmark and natural park.
Analytics from Edge to Cloud
Verizon Intelligent Video is gathers, analyzes, transmits, and stores video data—helping to improve situational awareness and safety.
The solution includes high-resolution video cameras and an Intel® processor-based Remote Surveillance Unit (RSU) with local storage and the compute power to run analytics at the edge. A wireless router provides both on-site and cellular connectivity through the Verizon 4G LTE network.
In addition, there's an optional solar panel with batteries for areas without land-based power. The cloud-hosted video server provides additional storage and remote management (Figure 1).

The system records high-quality video at the edge, using analytics to identify potentially suspicious activities. The RSU then creates alerts to notify personnel for rapid response.
"Analytics have come a long way. AI and computer vision are solving significant problems with regard to crime," said Foster. "Many municipalities are deploying a lot of cameras. But there are more images than people can look at. You can't get the benefit of a system that has 1,000 cameras citywide without this kind of technology."
Safety-as-a-Service
Verizon hosts and manages the Intelligent Video solution as a service over its private 4G LTE network. The pay-as-you-go model reduces capital expenses, which is essential for municipalities with limited budgets. This solution also adds a level of data security by having a completely independent and separate surveillance network.
"What Verizon wants to do is provide a complete solution to the customer, meaning we do everything. It's a managed solution where we host the application in the cloud," Foster said. "The cellular network provides a great degree of flexibility for deploying a remote monitoring solution. It solves a deployment problem since a lot of cities traditionally use a wide, diverse area on landline technologies."
Verizon Smart Community solutions, like Intelligent Video, create a positive impact on communities. With timely insights, these solutions can improve quality of life, citizen safety, operational efficiency, and environmental sustainability.