Retailers Profit with Real-Time Analytics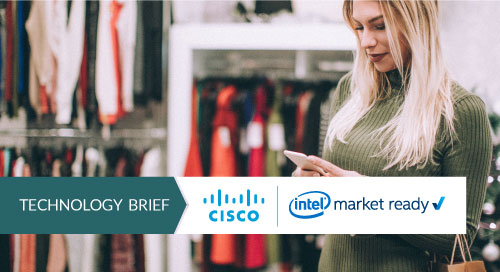 Retail isn't easy. Online merchants are creating big expectations for customers—expectations of always-on, instant service, the power to access information on products and availability, and the ability to check out on their mobile devices.
End-to-end retail store management solutions have your back. They connect all aspects of operations and offer real-time analytics that provide business-boosting insights. And those that are open give retailers access to an entire ecosystem of partners and their helpful solutions.
Let's talk about these new developments, and how they help retail operations grow and thrive.
Location Is Everything
The problem with trying to track where customers are and what they're doing is that they're not online, conveniently leaving a trail of cookies and clicks. But retailers can get similar results with location platforms for brick-and-mortar stores. These have increased in accuracy enough that retailers now can pinpoint exactly where their customers and staff are within a store.
"Location services are still in their infancy, but that's where the DNA Spaces platform and our solution partnerships come in," said Ron Kjelden, Global Director of Financial Services and Retail at Cisco. "Between the cameras, sensors, and Wi-Fi, I can tell you where someone is standing within a one-foot radius."
Data from a location platform can yield surprising insights. One retailer piloted the Digital Retail Solution from Cisco. Using DNA Spaces, the system collects intelligence from the underlying Cisco wireless network and translates it into actionable insights with the help of Open APIs, SDKs, and partner apps (Figure 1).

The retailer noticed that sales in one area of the store were unusually slow, so it started tracking people passing through the zone. Cameras tracked how much time customers spent there.
It discovered something unexpected: A lot of people were going into that area, but they were all customers. Sales staff, on the other hand, steered clear—which meant shoppers weren't getting the help they needed. To fix the problem, store management created a notification that would pop up on employees' phones if a customer was standing in that section for more than 45 seconds. Then the employee could go offer help.
Problem solved, right? Not quite. After implementing its notification solution, management discovered that the real issue was that employees weren't comfortable selling the complicated products in that area. So management kept the notifications but added a training session on the products. Within three months, sales increased in the former dead zone.
Open to Change
End-to-end solutions that have open APIs let retailers work with a network of partners to develop new solutions for everything from inventory to POS. Even better, these retail platforms let stores add new functionality as they grow, instead of having to commit to a proprietary solution. Such functions include:
Inventory management. A digitized inventory system that's not integrated with the rest of the retail operations doesn't offer the benefit of data-driven insights. Integrating an inventory management system into a retail platform helps improve all aspects of operations. For example, the Intel® Responsive Retail Sensor can be integrated into the platform to enhance inventory management—while offering analytics that also increase the efficiency of the sales staff, reduce costs, and improve the customer experience.
Customized promotions. The good news is that many stores have an app that lets you reach out to customers. The bad news is that adoption of these apps is typically low. "Twenty-eight percent of people download an app," said Kjelden. "Nobody ever communicates with the other 72 percent." Some retail platforms can integrate with the store's CRM system to create a customized splash page on customers' mobile devices when they're on the store's Wi-Fi, bypassing the need for an app altogether. This doubles or triples the number of customers retailers can interact with.
Self-checkout. For the National Retail Federation's 2019 conference, Cisco showed how DNA Spaces integrated with Apple, self-checkout solution MishiPay, and other vendors to create a system where customers can scan products they want to purchase, autopay with their mobile device, and walk out of the store.
Self-help. More than two-thirds of shoppers say they'd be more likely to buy in-store if they were given digital self-help technology. A perfect use case for this is retailers that sell complicated products. Customers need information on the products but don't necessarily want to speak with a salesperson right away.
One retailer used Cisco Digital Retail to create a solution where product information would pop up on the customer's phone when standing in front of a high-priced product, such as an air conditioning system. "The customer could read everything about it, or watch a little video," Kjelden explained. "Then, if they still needed help, they could punch a help button. It would notify the closest associate, and the associate's device would show a dot on a map where that person was requesting help from."
Wide Open Spaces
SD-WAN (software-defined wide-area network) is a relatively new approach for managing wide-area networks that provides real-time data, faster guest Wi-Fi, and more robust security. It's also the technology that enables many of the developments we just talked about. "The SD-WAN manages your scalability, your stability, and all the security and interaction that's happening within a single platform," Kjelden said. "It's a critical thing, as data becomes the core to the network, to have an SD-WAN platform that can manage, monitor, alert, and secure within your environment."
This end-to-end retail platform creates a seamless customer experience while offering business-ready insights. Said Kjelden, "No one technology can do everything. But having the ability with open platforms to do it together—that's where success is going to come from."
And Intel® technology is fundamental to the Store Retail Solution, not only with technology but its partner ecosystem as well. Kjelden summarized: "Cisco can't do it all. And Intel's technology has enabled so many other companies to be successful. There's a lot more we can bring to the table to drive positive change and success within the retail industry."