Fill form to unlock content
Error - something went wrong!
Stay up-to-date with the latest IoT news.
Retail Analytics Reveal Customer Engagement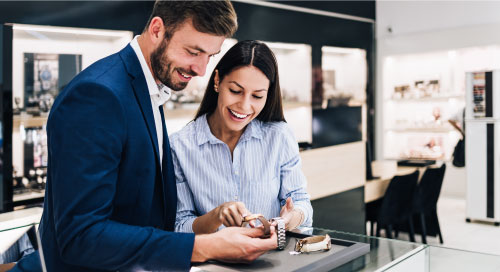 Knowing what your customers like, what they don't like, and what piques their interest in real time could be invaluable for retailers, helping inform campaigns, displays, and content. But it seems like you'd need to be a mind reader to gather this information. While loyalty programs provide some information, brick-and-mortar retailers have had to rely on intuition alone when selling to customers.
For years, online retailers have had an advantage over physical stores because they can gather analytics from visitors' browsing activity. But AI technology is leveling the playing field. With the help of systems integrators, luxury brands are using edge technology to gather and leverage analytics inside physical stores. These insights are being used to tell stories that help improve the customer experience, adapt to the changing market, and grow sales. And the timing is perfect, as shoppers return to stores after the pandemic had sent many online.
"Despite one-click shopping, 90% of sales are still transacted in stores," says Luigi Crudele, CEO of Wonderstore, a manufacturer of AI solutions for the retail industry. "That means retailers have plenty of information to gather about visitors to their locations. Stores are the main place to create high level relationships with the consumer based on involvement."
For example, one fashion brand used the insights collected by Wonderstore to pinpoint the best day and time to launch its new accessory line. By understanding its customers' behavior, it was able to increase accessory revenue by 30% the day the merchandise was available in the store.
Another luxury fashion brand uses Wonderstore data analytics to uncover an average of 20% transaction variation between stores. It also found there was a 15% difference in conversion rates between its highest and lowest performing locations. Managers used this information to better understand regional customer profiles and the success rate of sales tactics.
AI Retail Technology Creates a Smart Store
To create Wonderstore IoT retail analytics solution, Crudele drew upon his wealth of experience in storytelling and branding. His first company created 3D computer animation for video games, and he later launched an agency for developing interactive digital brand experiences, working with Italian brands like Tiscali.
"Brands spend millions of dollars in advertising campaigns and super shop windows," says Crudele. "We measure the effectiveness of those messages. With our solution, retailers can measure performance, understand conversion rates, and improve their investments."
Wonderstore uses sensor technology to collect data about the in-store customer journey. Using computer vision technology, the solution can count, track, and analyze customers, collecting data that includes gender, age, and even emotions. It can measure dwell time, visitor flows, browsing patterns. The data can be very granular, measuring performance of every single point of interest in the store, such as shop windows, entrances, shelves, fitting rooms, mirror, and the point of sale.
The company relies on the latest computer vision storytelling technology, with best-in-class IoT sensors from Intel®. Meeting GDPR regulations, sensors collect anonymous data that is sent to the cloud to be analyzed and transformed into actionable information. The solution is fully developed on Microsoft Azure architecture and cloud services. Using a storytelling data visualization platform, data is immediately readable, allowing the retailer to make decisions in near real time.
Retail Technology Partnerships Provide Scale
"Partnerships help create awareness and trust in the marketplace. Wonderstore chose Microsoft and Intel to align with their vision of the cloud and IoT services,"
says Crudele.
"Through these relationships, Wonderstore was able to quickly enter the market with a prototype, show the product to the customer, and build a business with the top luxury brands," he says.
Wonderstore also partnered with Tech Data, which provided immediate scale to its business as well as awareness and trust in the marketplace.
"We are a startup and Tech Data is an international IT distributor," says Crudele. "Tech Data transformed our team from two people selling our product to thousands of resellers across Europe. The company is helping us change our business model from delivering technology to a solution. Our customers are no longer the retail brand, but the partner. This paradigm is allowing us to scale up our business more easily and faster."
By leveraging data, Wonderstore is helping create smart stores that can adapt to the customer and understand their needs from the moment they enter the store—not just at checkout.
"The store of the future will be a place where customer will have personalized services with creative brand experiences that entice them to buy," says Crudele. "And it's important for retailers to move from a sales model to service model. Recognizing and understanding their customers with the same precision as Google Analytics helps create an experience that's more than just a mere transaction."
This article was edited by Georganne Benesch, Associate Editorial Director for insight.tech.