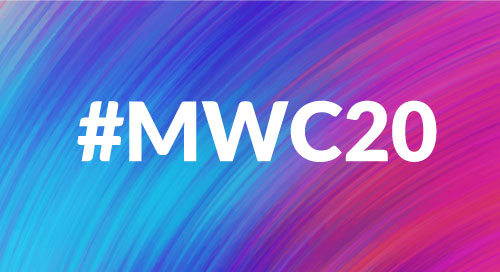 UPDATE: Due to the ongoing coronavirus outbreak, MWC has been canceled. If you are looking for other opportunities to learn, check out our IoT events page. And follow us on Twitter, where we bring you the latest news and happenings from around the industry.
MWC Barcelona is the world's largest exhibition for the mobile industry. From February 24 – 27, influential visionaries will share leading-edge technology and demonstrate the latest innovations.
We've highlighted events from three main tracks; here are the sessions you'll want to see in each.
Security in the Industry X Era
While Industry X is allowing industries to transform themselves for a modern, connected world, it's also producing large amounts of data, much of it real-time IoT. Is sensitive data at risk from cyberattacks and hacks? Find practical steps to safeguarding your organization with speakers from Accenture, Hitachi, ENISA, Cisco, IBM, and Ericsson.
Redefining the Relationship Between Cloud, Enterprise, and the Edge
Companies that want to benefit from the capabilities of Industry X and IoT quickly learn that data needs to live on the edge rather than in the cloud to realize the full promise of interconnectedness, optimal efficiency, and innovation. Want to realize the benefits of the shift from cloud to edge for your enterprise IoT? This session is your ticket.
Innovating for IoT: Thriving in a World Where Devices Outnumber Humans
By 2030, there will be more connected devices than humans. The innovations brought by IoT have great potential to solve worldwide problems of climate change, food and water shortages, and mass urbanization. But the world is not equally connected. How can we leverage the technologies so that no one is left behind? Join us for real-world examples that demonstrate cutting-edge innovations for the future.
Curious about how the "Internet of Things" benefits your organization? The dazzling array of new technologies designed to connect our lives and increase productivity is vast and complex. This session, featuring representatives from leading IoT companies, will cover the full spectrum of the potential of IoT—from infrastructure to consumer endpoints.
Microsoft + SAP Disruptors Summit: The Future of Innovation
If you're curious about the benefits of disruption, you won't want to miss the keynote speech from one of the original disruptors, Netflix co-founder Mitch Lowe. The Disruptors Summit will feature TED-style talks by select Microsoft and SAP executives, offering real-world lessons from innovators who've successfully led companies in disrupting products and companies.
Harnessing AI & Public Cloud Technology to Digitize Telco
Carrier core networks may be sitting on a gold mine of customer data that could be used to create a customer-first carrier of the future. Unfortunately, most of them are not engineered to extract and harness customer data at an industrial scale. fonYou and Google Cloud executives will jointly present a success case blueprint on how deep mobile analytics (DMA) technology can transform core networks to take advantage of public cloud and machine learning—turning them into strategic assets for the future.
Learn the vast potential of the data, such as retail data, collected by IoT. This session will highlight companies that are currently leveraging types of AI technology like Machine Learning, Machine Vision, and Deep Learning. See how AI's role as a foundational technology is driving the possibilities of the Internet of Experiences—here and now—in this session.
Heading to MWC2020? Check out these sessions on IoT and AI @GSMA @insightdottech
5G the NxT of Manufacturing Summit
Although the promise of 5G for manufacturing is still unrealized for many, some companies are using 5G today to create more flexible factories and develop more efficient supply chains. Get the frontline reports from senior executives from Tech Mahindra, Alsthom, KPN, Thomson Reuters, and Cisco.
Intelligent Connectivity Summit: Make, Break, and Innovate with Mobile IoT
Here's your chance to discover Mobile IoT and learn to navigate its ecosystem. The potential is almost limitless, but things don't always go according to plan. Best practice? Make it, break it, start again, innovate!
Connecting Everyone & Everything High-Frequency 5G Can't
With all the hype around the high-capacity networks of 5G, it's worth remembering that even where it's deployed, enterprises require greater coverage than ever. For many countries, cost alone will prohibit a large-scale deployment for years. This session will offer ideas for cost-efficient boosts to national-scale networking for the world that 5G isn't serving.
There's a new wireless revolution coming, bringing with it the promise of autonomous vehicles, enhanced VR, remote surgery, and more. Take a deep dive into 5G's revolutionary speeds and responsive capabilities—and get a glimpse of the innovative services and products possible in a 5G world.