Microsoft Ignite Showcases AI & IoT for Retail Applications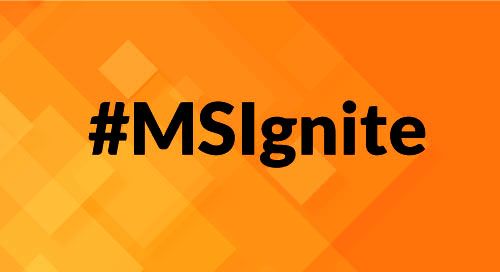 If you were lucky enough to score tickets to the now sold-out Microsoft Ignite, you'll join more than 25,000 enterprise developers, IT professionals, and decision-makers. The event features 1,000-plus presentations and more than 200 hands-on experiences, making it all too easy to get overwhelmed.
Microsoft Ignite takes place November 4-8, 2019, in Orlando. We invite you to "Fast Pass" your way to the Intel® booth (find it in the Community Zone). Among other things, Intel will feature these three demos showcasing innovations in AI and IoT for retail applications.
Is it Live or is it Memomi?
Get a look at the future of retail in-store technology by using the Memomi smart mirror to select eyeglasses. This Intel® IoT Market Ready Solution uses AI to analyze your face shape and then lets you virtually try on various styles and colors until you find the perfect frames.
The Memory Mirror captures a lot of relevant data—sizes, likes, dislikes, color preferences—for future personalization of new offers. The try-on sessions let the end-user compare multiple options, keep a record of the session, and email the session to themselves (or to friends and family for second opinions). It essentially allows customers to shop an "endless aisle" by trying on eyewear that's not in stock.
In an ever-increasing competitive landscape, retailers use technology like Memomi to make real-time recommendations and provide a realistic and personalized AR experience for their customers. Smart mirrors are currently being used by luxury brands such as Neiman Marcus, L'Oréal, and Luxottica. This allows customers to virtually experience high-end fashion, skincare, eyewear, shoes, and accessories.
To learn more about the Memory Mirror, see how Neiman Marcus and Luxottica use the product.
SAAS-y Logistics
CH Robinson Logistics offers a variety of strategic global shipping and freight transportation solutions—and uses the Intel® Connected Logistics Platform (Intel® CLP) to handle all physical shipments for Microsoft. If you've gotten an Xbox or Surface recently, it's been handled by CH Robinson.
Now, CH Robinson is using Microsoft Azure IoT Central and Intel CLP to offer tracking-as-a-service through its Navisphere suite of tools. These tools enable users to track end-to-end information in the supply chain in real time. And they offer predictive analytics that look out for potential disruptions so shippers can avoid delays.
The open-source mechanisms of Intel CLP ensure seamless device-to-device connectivity—and Microsoft IoT Central connects everything to serve the end-user.
Come by the booth to "track your order" as the system moves a package from one part of the booth to another. You can then monitor the RFID system as it recognizes delivery.
For more information, read about Honeywell's implementation of this solution.
ONNX and Intel® OpenVINO™: Write Once, Deploy Everywhere
To enhance the end-user experience, more and more companies are developing AI applications using open-source frameworks like TensorFlow. But while cloud environments have allowed for robust machine learning and AI development, inference deployment at the edge has been a challenge.
Until now. The integration of Open Neural Networks Exchange (ONNX) Runtime with the Intel® OpenVINO™ Toolkit gives developers the ability to train models using ONNX in the cloud and use OpenVino for inference deployment at the edge. Users can choose a wide range of diverse hardware at the edge and achieve near-real-time results with low latency. They can also address privacy and bandwidth issues of data collected and stored at the edge.
In the booth demo showcasing this new integration, you'll see the system track empty spaces on a store's shelves; in the real world, this would help retail staff restock in a timely manner or find items that are in the wrong location.
Want more details about this solution? We covered the Microsoft IoT framework here.
Now that we've given you three great reasons to visit us at Ignite, we have just a few other pieces of advice: Get your badge early (Saturday or Sunday), stay hydrated, and bring comfortable shoes!