IoT Expert's Guide to Cisco Live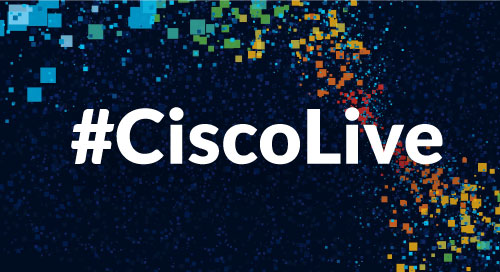 Editor's Note: Out of respect for the Black Lives Matter movement, Cisco Live has been rescheduled to June 16-17. We stand by Cisco's choice to give the community the time to reflect and focus on the more important issues of our time, and honor the fight for dignity, respect, fairness and equality.
---
Cisco Live is one of the best places to learn about the latest in IoT, so mark your calendars for this year's event. The show has gone virtual, so you can now soak in the learning without having to leave your seat. Here are the sessions that matter most for developers and decision-makers looking for cutting-edge IoT solutions.
A Home Run of a Case Study
This year's customer spotlight is on the Los Angeles Dodgers, a six-time World Series Championship team—which means Cisco has to bring its A game. In MLB's Los Angeles Dodgers Transform Data Analytics with Cisco HyperFlex and Intel® Optane™ – DLBPOS-24, you'll learn how the team's head of IT uses Cisco Connected Stadium to transform data analytics for Dodgers operations.
Tech For The Age Of Social Distancing
With so much of our daily lives going remote, there is a pressing need for technologies to help us adapt. Here are three sessions that showcase the ways the IoT can help.
The End of Waiting Rooms?
Until recently, telehealth was more like science fiction than reality. Now, virtual healthcare is becoming the norm.
In The Future of Telehealth, Marlon Harvey, a Cisco Healthcare Solutions Architect, will discuss what healthcare delivery will look like for the rest of 2020 and beyond, how clinician and patient expectations are changing, best practices gleaned from health systems worldwide, and emerging trends and tech in healthcare.
When All Work Is Homework
Distance learning is no longer just an option—it's the new reality for students and teachers at all levels. So in Transforming Teaching and Learning in Times of Change, education experts from Cisco will share best practices plus a framework that keeps students, administrators, and instructors engaged, as well as tips to get everyone on board with the new technology fast.
Safe Shopping
Retailers are ramping up their spending on cloud computing capabilities every year. With so much riding on their business-critical cloud applications and platforms, retailers need a robust and extensive security system. In Simplify & Secure Cloud Strategy for Winning Retailers, the presenters will share use cases for cloud technologies that are making a difference for these businesses—and the secure cloud infrastructure that enables them.
Are you an IoT expert? Get the @insightdottech guide to @CiscoLive's first online-only event
Tech Solutions for We the People
Traditional tech solutions fall short of what governments need in today's uncertain world. Here are three events that will spell out the new challenges governments face, and some new solutions to match.
Government Now: Finding the New Normal—How Business As Usual Will No Longer Cut It
Learn how governments can offer telework to more employees while keeping things running efficiently and keeping sensitive information secure. You'll also see how technology can support remote community engagement, provide critical resources for first responders, and help governments onboard users quickly and securely.
Public Sector Now: Continuity of Government Services in Times of Change
Presenters from Cisco's U.S. and Global Public Sector groups will talk about how all levels of government can help ensure the continuity of community services, judicial services, and more. They'll also provide examples of public sector customers that are leading the way.
Critical Security for Resilient Water Infrastructure
How do governments manage our water supply as the amount of data, users, and services increases? Cisco experts on cities, communities, and transportation will show you advanced tech can enable integrated IT/OT solutions with effective network security to face today's challenges—and manage tomorrow's threats.
The Future of Factories
The ever-evolving technology in industrial manufacturing brings along new challenges—and new solutions. Don't miss these four key presentations that will help you stay on top of it all.
Industry 4.0—Future Scenarios in the Year 2025
Get the scoop on the goals and benefits of Industry 4.0. You'll also learn about sustainable digitization that allows for the integration of increasing data sources, how to achieve a robust network when so many systems, networks, and pieces of equipment are still not connected to the IoT, and more.
Zero Trust Security and the Industrial IoT
Cyber threats to Operational Technology systems are having a big impact on uptime—and the problem will continue to grow as operational applications move to cloud environments. This event will explain these challenges, plus how to apply Zero Trust Security principles to an OT environment.
Cisco Work Cell Security
Get an inside look at the Cisco products and features that provide a competitive edge in plant floor switching and security. You'll also discover the benefits of micro-segmentation within the cell network on the plant floor, and the presenter will walk you through a successful application of the Cisco Work Cell Security architecture at an actual account.
Automating the Network of Plant Floor Operations
As IoT technology evolves, we're seeing ever-increasing levels of connectedness—and we need an automated network to help support it. This session will cover an 18-month timeline to implement an automated network that supports industrial automation.
Cash In the Cloud
What's next in financial-services firms' journey to the cloud? In Crossing the Cloud Finish Line, an all-star panel of Cisco security, data center, and cloud strategy experts will show you how to eliminate roadblocks, prioritize your efforts, and prepare your firm and your clients to move into the cloud.
On the Cisco Live website, you can build your own personal agenda of the sessions you want to see. Be sure to fit in these 13 to stay in the know on new advances in IoT.