Industrial Summit Review: Tech Spurs Growth in Tough Times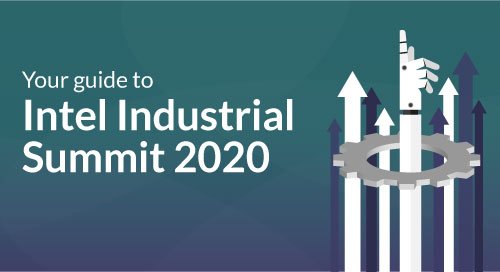 This has been a challenging year for all of us, following a pandemic that shook the world. The global closure of all things business, and personal, has shown us all just how much we rely on technology only to function—let alone function normally.
With this said, technology is driving the world forward at such a lightning-like pace that it can be hard to imagine how any business could catch up. This is why it was so refreshing to see what Intel had in store for us at the Intel® Industrial Summit 2020. (The recorded sessions are available for your perusal. Check out this guide to the Intel Industrial Summit 2020 for tips on what to see.)
A two-day global summit focused on Industry 4.0. The event showcased the latest advancements in manufacturing and distribution, including significant new chipset announcements. Speakers from industry leaders like Siemens provided insights not just from a global perspective but with a regional focus as well—which in my opinion is vital.
Inspiring Keynote
Right from the get-go, the keynote from Tom Lantzsch, Sr. VP and GM of the Intel IoT Group, was highly educational. He explained the past three years of the company's strategy for the Industrial Internet of Things (IIoT). Back in 2017, Intel started to move into the world of High-Performance Computing, looking at the way data is used at the edge of any network—critical to every manufacturing and distribution business.
In 2018, Intel released a suite of toolsets that enabled the developer community to tap into edge data like never before with the release of the OpenVINO toolkit. Now engineers could receive a multitude of insights from their previously untapped data from the edge. In 2019, Intel scaled these capabilities within verticals and across its partner network.
IIoT and industrial expert @neilcattermull wraps up @IntelIoT's Industrial Summit. via @insightdottech
Now fast-forward to today. Intel has not only a comprehensive development kit for edge devices, tested within multiple market verticals, but also the software and hardware to accelerate business automation and cost reduction (much needed at this time).
Though many have been working toward the Industry 4.0 model, some have sat back and watched early adopters. Now we can all stand to attention and truly take note. This is a must-do move, not a "let's see who adopts first" approach. Adopting Industry 4.0 principles not only produces a streamlined cost-efficient business, it creates a more sustainable approach when any unexpected event occurs—the whole of 2020 as a great example!
As noted earlier, the event also featured talks and demos from numerous Intel partners. For more on that, see the insight.tech coverage of must-see tech at the Intel Industrial Summit 2020.
Impressive New Intel® Processors
Other noteworthy information included the release of two new chipsets, designed with IIoT and smart automation in mind. First, the next-generation Intel® Atom® processor, boasting nearly double (1.7x) the single-thread performance and up to double the graphics performance.
The second chip was the IoT version of the 11th gen Intel® Core™ processor. These CPUs deliver up to a 23 percent improvement in single-thread performance, a 19 percent boost in multithread performance, and nearly a three times jump in graphics performance over the last-gen processors.
Both chipsets announced at the Intel® Industrial Summit were designed with the IoT in mind. Industries such as manufacturing, transportation, retail, healthcare, and hospitality will benefit significantly from the chipsets, along with the edge application software that Intel provides.
Audi Showcases Automation
But the proof of the pudding is in the eating (as we say in the UK), so I was eager to see the session that demonstrated how Audi had adopted the Industry 4.0 Smart Factory approach with Intel. Audi teamed up with Intel to streamline production of its vehicles, making its factories more efficient while reducing labor cost by up to 50 percent.
This all started with checking welding spots on the car chassis. More than 5 million welding spots are conducted every day over its manufacturing plants, and this checking mechanism was a very labor-intensive task. With the help of Intel, Audi automated this process, and the cost savings speak for themselves.
In summary, the Intel Industrial Summit 2020 was enlightening in more ways than one. Listening to regional representatives who have implemented smart factory solutions hit home for me. Data security, local legislation, speed of access, and economy of scale were but a few challenges mentioned. With the release of the new chipsets from Intel, coupled with the supporting hardware and software stacks from Intel and its partners, these issues become muted.
For those of you reading this article and who are still debating moving to an Industry 4.0 model, take some time and watch the on-demand replay of the Intel Industrial Summit 2020. The technology has evolved. Isn't it time your business did the same?