Fill form to unlock content
Error - something went wrong!
Stay up-to-date with the latest IoT news.
How Garbage Trucks Make Smart Cities Safer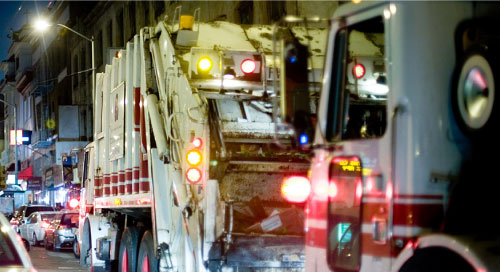 Have you ever thought something as mundane as a garbage truck would be central to the evolution of smart cities? Taipei City officials certainly have.
Taipei has mounted 128 video cameras on municipal garbage trucks in an effort to monitor suspicious activity, curb loitering in busy urban areas, and improve overall public safety. The vision systems use geofencing and pedestrian detection to identify people entering certain areas, then provide operators with the ability to remotely monitor video feeds over a web interface (Figure 1).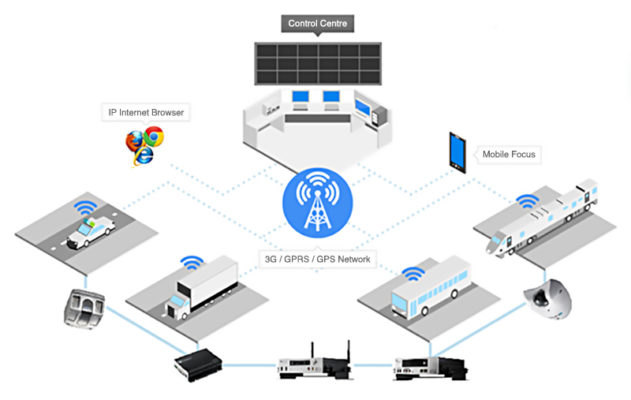 Of course, this use case requires more than simply mounting cameras onto city vehicles. To minimize costs, the vision system must be able to store clips of interest locally rather than streaming large video files over cellular networks. At the same time, the system needs to notify officials of ongoing events so they can react quickly to situations that require their attention.
Finally, the solution has to have enough performance to:
Process multiple video feeds simultaneously
Deliver enough throughput to handle the frame rates required for mobile video surveillance
Execute object detection and recognition algorithms with high accuracy

To improve frame capture and inferencing execution, EverFocus engineers optimized their existing OpenCV modules using the @Intel OpenVINO Toolkit.
Mobile NVRs, Tough Enough for Trucks
To meet these requirements, Taipei City partnered with EverFocus Electronics. The solution centers around the eIVP5600, an AI-enabled fanless mobile network video recorder (NVR) shown in Figure 2.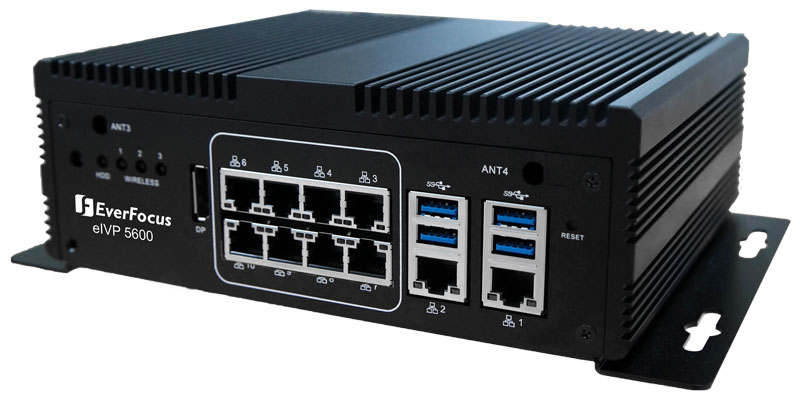 The eIVP5600 is a rugged NVR based on 7th generation Intel® Core™ processor technology and Intel® Movidius™ Myriad™ X Vision Processing Units (VPUs). It supports 4-channel IP cameras and up to 1 TB of storage, which is good enough for roughly two weeks of recorded video. The fanless system is designed to MIL-STD-810G, allowing it to easily withstand the shock and vibration encountered in vehicular environments.
Performance is critical to the success of Taipei's garbage truck surveillance program. Executing object detection and recognition functions against multiple video feeds requires that a large number of frames be processed in real time. And the mobile nature of the application means that video must be captured at varying frame rates to provide accurate input data to inferencing engines.
To improve frame capture and inferencing execution, EverFocus engineers optimized their existing OpenCV modules using the Intel® OpenVINO™ Toolkit (Figure 3). The Toolkit provides a unified framework for AI development that includes deep learning libraries like OpenCV, and the resulting optimizations improved their inferencing algorithms from 65 percent accuracy to as high as 90 percent.

These algorithms are executed on the NVR's ultra-low-power Movidius module that is capable of performing more than 1 trillion floating-point operations per second as a dedicated neural-network accelerator.
"The OpenCV module sends pixels to OpenVINO to ensure that the correct image data is sent to the inferencing engines running on the Movidius VPU," said Paul Lee, Deputy Marketing Manager at EverFocus. "We don't have to train the data because we get the training data from OpenVINO."
"The eIVP5600 supports up to eight channels for IP cameras, and specific AI algorithms can be run against video streams on specific channels," Lee added.
Beyond object detection and recognition, the eIVP5600 NVR software supports driver fatigue and distraction monitoring, pedestrian detection, and people counting.
AI Technology Cuts Networking Costs
To minimize network costs, the 3G/4G/Wi-Fi-enabled eIVP5600 regularly transmits only metadata—like vehicle location—to back-end servers. But when the AI flags video as being of interest, that clip is automatically uploaded to servers and alerts are sent to operators. Operators can then use a common gateway interface (CGI) command to access video clips stored on the eIVP6500 platform or watch live video feeds in real time.
To further conserve network transmission costs, the eIVP6500 can record videos at either 4K, 1080p, CCTV (704 x 480), or VGA (640 x 480) resolutions. This provides users with the flexibility to watch high-resolution videos in real time when necessary, or store low-resolution copies for later review.
Garbage Is a Gateway to Smart Cities
Historically used for basic recording and playback functionality, NVRs are becoming full-blown digital security and surveillance (DSS) systems thanks to AI. And in forward-looking municipalities like Taipei City, they can accelerate the transition to smart cities.
While NVRs like the EverFocus eIVP5600 are currently geared toward people monitoring, the options for a smarter city seem endless. Algorithms could be loaded to identify potholes, broken streetlights, and other infrastructure that needs to be repaired or replaced. These vision system-equipped garbage trucks running their normal routes could flag the location, date, time, and status of a piece of infrastructure—issuing metadata alerts to dispatch workers. And once on site, those workers could reference recorded video files to properly assess the problem.
At least in the short term, this approach is much more realistic than completely reworking city infrastructure and replacing it with wirelessly enabled sensor platforms.
Get ready for the Internet of Garbage Trucks.