Fill form to unlock content
Error - something went wrong!
Stay up-to-date with the latest IoT news.
Enhance Campus Life with Video Analytics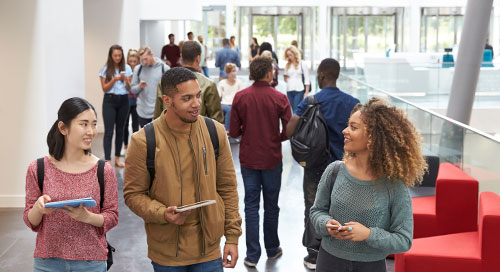 Video analytics and IoT technology are helping college campuses become smarter. It's not just about security anymore. The benefits go much deeper.
Take Curtin University in Western Australia, for example. The school uses video analytics to enhance the campus experience for its 60,000 students and 4,000 staff members. It does so by gathering granular information on building occupancy, classroom attendance numbers, foot traffic, and more.
In this way it can fine-tune plans to maximize existing infrastructure so that more students can attend a particular class or smaller rooms can be used for classes with fewer students. It also leads to shorter queues, optimized parking, more convenient access to service areas, and of course a more secure campus.
In fact, this information can support major financial decisions, such as whether or not to invest in new buildings and classrooms. "Imagine if the university were to spend $25 million in real estate and construction and then end up paying annual operational costs of $1 million," said Justin Bean, Global Director of Smart Spaces Marketing at Hitachi Vantara. "Because they can better use the infrastructure they already have, Curtin can push that investment out five years."
That's a huge payback. Bean went on to say that it would mean a savings of $5 million in OPEX and likely a better rate on a building loan, plus it gives the university time to fundraise. "There's also a sustainability impact because buildings account for about 40 percent of greenhouse gas emissions," he added.
Smarter Public Spaces
Curtin leverages the Hitachi Vantara Smart Spaces solution to achieve these operational benefits. Smart Spaces is an open, hardware-agnostic software stack that integrates IoT sensor data, edge processing, data management, and video intelligence into use case-specifc contexts (Figure 1).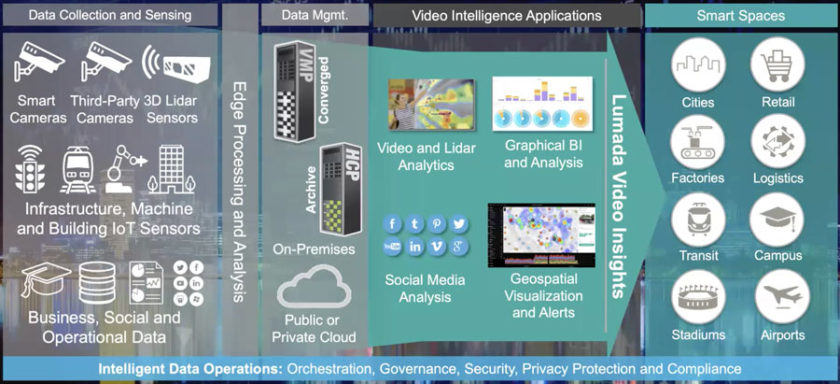 For more detail on the Hitachi Vantara platform architecture, read how AI and Computer Vision Direct City Traffic.
At the furthest edge of a Smart Spaces deployment, the platform can ingest video streams from smart cameras, point clouds from 3D LiDAR systems, alerts from computer-aided dispatch (CAD)/911 software, social media feeds, and time-series data from a variety of different sensors. Camera health monitoring and video enhancement filters help ensure that sensor data is captured at the highest resolution possible.
Inputs from these sensor devices are aggregated and analyzed by Intel® Core™ processor-based edge gateways or servers powered by the Intel® Xeon®. From there, sensor data passes through an abstraction layer that allows it to be ingested in a unified data lake. Video analytics and artificial intelligence (AI) are then applied to transform the unrefined data into real-time insights and alerts displayed in a cloud-based visualization dashboard.
Beyond facility usage and energy consumption, Smart Spaces video analytics and AI technology enable intelligent university applications such as:
Foot traffic analysis, queue detection, and parking analysis for optimizing public walkways, parking structures, and registration centers
Activity and dwell time analysis for efficient positioning of campus resources, such as cafeterias, libraries, and counseling offices
Intrusion alerts, abandoned object detection, license plate recognition, and gunshot detection for increased campus safety and security
The modular platform can be tailored to meet specific organization goals and scaled to meet future requirements.
"It is a GDPR-ready solution. So as they're trying to comply with privacy regulations, the system offers auditable information about how they're using this data." @jbeano @HitachiVantara
Smarter Data Privacy and Security
Of course, one growing concern for organizations looking to employ video-based monitoring solutions is subject privacy and security. This is especially the case for educational institutions like Curtin University.
Hitachi Smart Spaces works with technologies like LiDAR that do not capture personally identifiable information. But it also employs a color-masking and pixelation-obfuscation feature called privacy protection that anonymizes individuals captured on video (Figure 2).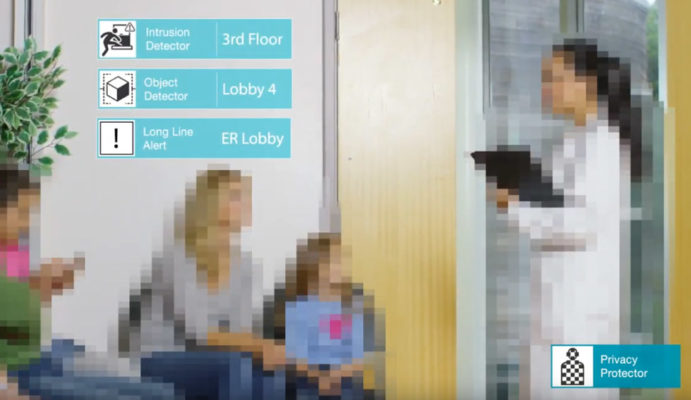 "The privacy-protected system tracks all of a subject's activity. Then if something happens – like a crime – an authorized individual can access the original footage," Bean said.
"It is a GDPR-ready solution. So as they're trying to comply with privacy regulations, the system offers auditable information about how they're using this data, which helps with compliance," he added.
Further Inside the Connected Campus
Operational efficiency and enhanced security are just two ways that video analytics can make a campus smarter. For instance, facial recognition can be used to help administrators measure classroom engagement based on emotion: If the majority of students express bored or neutral emotions, maybe it's time for the curriculum to be updated; if most show interest, perhaps nothing needs to change.
With deep visual insight into their facilities, faculty, and students, universities can conduct research that helps them continuously improve. This can be used to enhance campus safety, improve academic outcomes, offer better student services, and increase overall satisfaction.
So what can video analytics teach you?