Don't Miss This Tech at NRF 2020 Vision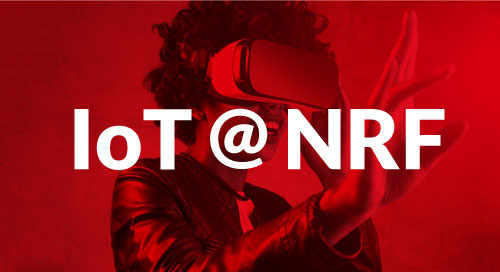 It's a new year, a new decade—and the National Retail Federation (NRF) is kicking off 2020 with Retail's Big Show, NRF 2020 Vision. See the future of retail data, and change the way you do business, in over 175 sessions featuring 400 speakers. More than 800 exhibitors will be showcasing cutting-edge retail tech at the Javits Center in NYC from January 12-14, with opening receptions on January 11.
Let us help you navigate this huge event with some don't-miss opportunities to ensure you leave with strategies for immediate actions to kick-start your 2020.
1. NRF 2020 Keynote Session
Microsoft CEO Satya Nadella delivers the opening keynote this year. What is the future of retail? How will technology transform the industry? How does visionary talent meet visionary tech? This is a great way to start the conference.
2. NRF 2020 Expo
The NRF Expo is a massive marketplace showcasing retail innovation across three floors of the Javits Convention Center. Connect with more than 38,000 retail visionaries—innovation as far as the eye can see!
One exhibitor on the must-see list is Hitachi, Booth #5882. It has an impressive array of smart retail solutions—to get a sneak preview of what it'll be showing, check out our recent Twitter chat with Hitachi.
And of course you'll want to head over to the Intel® Booth #4637 to see amazing tech including:
A Fully Automated Store
Step into the future of frictionless brick-and-mortar retail. Using Intel computer vision technology, UST Global, Cloudpick, and RBS have created a shopping experience where a customer may simply select items and walk out.
The Point-of-Sale That Sees
What if you could autonomously recognize your customers' faces, and each item in your store—allowing everything from facial payment to customized shopping experiences? The Hisense modular POS kiosk allows all this and more!
AI for Parcels
It's time to reinvent the process of sending packages. Powered by technology from meldCX, Intel, Google, AOPEN, and Microsoft, the Smart Parcel Kiosk uses AI to analyze customer behavior and turn every interaction into a powerful point-of-purchase.
Intelligent Loss Prevention
The Open Retail Initiative (ORI) augments existing retail systems by combining their data streams on an open-source platform. To show its power, a team of collaborators including PCMS, HP, and IOTech created a demo that fuses POS transactions, video-based object detection, RFID tracking, and more. See how it can automate loss prevention (among other feats).
3. NRF 2020 Exhibitor Big Ideas
See 100+ demos and case studies of the groundbreaking solutions driving the retail industry toward the future. Here are a few sessions to put on your schedule.
Driving better experiences with real-time, location-level data insights
Exceptional experiences drive the success of today's retailers, and the smart ones are using real-time analytics to achieve operational agility. Learn from the experiences of more than 1,000 retailers worldwide in this informative session.
Integrating facial identity to transform customer experiences
Looking for a new jacket? How cool would it be if the sales clerk already knew that you prefer leather over cloth and darker colors over pastels. Facial identity technology is the key to creating ultimate personalization that builds lifetime loyalty with your customers.
How Albertsons, Pinterest, and Vestcom inspire at shelf-edge
The key to delivering an enhanced shopping experience to consumers is often found at the edge—the shelf-edge, that is. Delivering relevant messaging at the shelf leads to a more satisfying shopping experience, builds the brand, and ultimately drives purchases.
How can AI-based video analytics improve the customer experience
Here's your chance to see a real-life use of AI technology in a multi-shop retail mall. Who buys and when? Video analytics plays an exciting new role in helping bricks-and-mortar stores create in-depth buyer profiles and track engagement behavior.
The IoT X Factor. Maximizing customer and employee experiences
IoT sensors placed strategically in your retail store can enhance the customer experience and increase the effectiveness of employees. Want to know how to leverage IoT and smart store technology? It's in this session.
4. NRF 2020 Featured Sessions
Each day, there are new Featured Sessions with some of the biggest names in the retail industry providing insight—and actionable information for quick implementation. Some of our faves:
Stronger together: The power of cybersecurity industry collaboration
Meet cybersecurity leaders from Target, Starbucks, and Best Buy, who will share how even the fiercest retail competitors can work fully collaboratively to protect consumer data.
Retail as a service: Plug-and-play infrastructure in physical retail
Direct-to-consumer brands are turning to a new solution that offers a way to test out their brands in physical retail. Find out how Neighborhood Goods and BrandBox are offering D2C brands their own space inside a larger shared space.
Solving for the future of retail with Cloud
Join Google Cloud CEO Thomas Kurian, and Kohl's CTO Paul Gaffney, as they discuss how Google has helped Kohl's build its cloud capabilities and intelligence in ways that serve both employees and customers.
Delivering on personalization: Harnessing machine learning to meet and anticipate shoppers' needs
Customers have too many choices? Recommendations and curation can save the day. Online styling service Stitch Fix sets the bar for this approach. Chief Algorithms Officer Brad Klingenberg shares how other retailers can leverage machine learning.
6. NRF 2020 Workshops
Open only to retailers, three half-day add-on workshops include specialized tracks on:
Foodservice Technology – Designed for grocery and restaurant professionals, this workshop will discuss both challenges and successes in implementation.
Cybersecurity – Geared toward retail business leaders and information security professionals, the workshop offers an overview of threats and risk management strategies in the retail enterprise.
Supply Chain and Logistics – This workshop is the gateway to learning about the technologies and processes that modern supply chains need to keep their logistics in sync and on point.
7. NRF 2020 Innovation Lab
The NRF Innovation Lab is an immersive exhibit featuring more than 50 visionaries from around the world, tracking the latest developments in retail data tech transformation. Get hands-on with new-to-market offerings in artificial intelligence, augmented reality, machine learning, facial recognition, and more, all designed to help retailers offer seamless customer convenience and customized personal experiences.