Fill form to unlock content
Error - something went wrong!
Your content is just a step away. Please submit below.
AI-Driven Retail Video Analytics Spurs Sales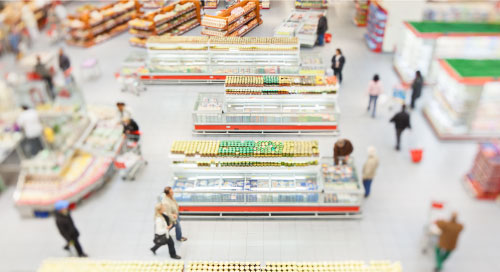 It's always a good sign for businesses when their local communities and cities continue to grow in population. Larger populations usually mean an expected increase in sales. But for one local salvage grocery retailer in Arlington, Texas, the desired growth wasn't happening in their case.
Smaller grocery retailers like Town Talk face competition from multiple avenues. Slim margins and labor challenges compound problems. To figure out why sales weren't improving, Town Talk needed information—about demographics, visitor foot traffic, and peak hours—so it could optimize product mix, placement, and prices.
Starved for Deeper Insights
Brick-and-mortar retailers like Town Talk are at a disadvantage compared to their online counterparts, according to Pankaj Kumar, Founder and CEO of PM AM, a global information technology company that provides custom solutions to its clients. E-retailers can slice and dice customer demographics and preferences in real time, deliver personalized recommendations, and increase sales. "But the moment it comes to brick and mortar, we hit a black box," Kumar says. "There's near-zero visibility into customer demographics or store layout and its rewards."
While consumer research and marketing are known entities in all retail, many of today's brick-and-mortar stores function on limited visibility as data and analytics aren't always available, Kumar explains.
A lack of useful operational insights is especially worrisome in grocery retail, where razor-thin profit margins can have a tremendous boost with a mere 1-3% margin increase. Stores like Town Talk need sales volume to make up for slim returns.
To address these challenges, Town Talk's turned to PM AM to deploy i3Di, its artificial intelligence-based video analytics platform, at the retailer's Arlington, 36,000 sq. ft location. Twenty cameras positioned strategically around the store—signage notified shoppers about video monitoring—streamed live video feeds, which i3Di processed to deliver near-real-time insights about shopper behavior, customer demographics, and traffic patterns. Town Talk acted on these insights and made more informed decisions about staffing, product mix, and merchandising.
By using #retail #VideoAnalytics, management can track which customer journey maps in the store, strategically positioning products at the right location at the right time for targeted sales and increased revenue. PM AM via @insightdottech
Video Analytics Deliver a Smorgasbord of Advantages
Video analytics can level the playing field for brick-and-mortar locations by giving retailers like Town Talk valuable intelligence about the who, what, where, and when of their customers, Kumar says.
For example, Town Talk's market research had forecasted that women and baby boomers comprised a majority of their shoppers. Video analytics proved otherwise: The customers at the Arlington location turned out to be evenly divided between men and women, and a majority of shoppers were millennials.
Every retailer worries about leakage—missed opportunities for an upsell. By using retail video analytics, management can track which customer journey maps in the store, strategically positioning products at the right location at the right time for targeted sales and increased revenue. Town Talk used PM AM's i3Di to identify the three most-visited areas of the store and optimized merchandising accordingly.
At a time when retail is struggling with labor shortages, knowing peak traffic hours through video analytics helps store managers plan for staffing, allotting more workers during high-volume periods.
Town Talk also used video analytics to determine when inventory was running low on shelves so the store could accelerate the restocking process. These combined factors led to more products being sold faster and allowed Town Talk to also forecast product demand.
The Ingredients in the Video Analytics Recipe
PM AM's i3Di solution comprises four components:
Cameras: These can be closed circuit television (CCTV) or smart cameras (Intel® RealSense™ D455 Depth cameras with integrated compute models)
Edge computing using Intel GPUs and VPUs
PM AM's proprietary AI algorithm
PM AM's proprietary business intelligence (BI) platform that delivers insights
PM AM works with system integrators and in Intel's ecosystem to deliver functionality that its customers want, Kumar says. The company uses Intel® DevCloud to test a range of Intel hardware and to optimize AI models for specific edge computing requirements. PM AM uses the Intel® Distribution of OpenVINO™ Toolkit and its inference models to identify shoppers' ages, gender, moods, and movement patterns without revealing personal identifiable information (PII) that might cause security concerns.
Retailers can start with the camera infrastructure they have in place to access basic insights such as foot traffic and demographic makeup. To access more specialty information such as outages, stores will need to install advanced smart cameras.
Increasing Appetite For AI-Driven Analytics
AI video analytics in increasing granularity can find additional implementations in being able to test-drive new-product launches in stores, analyzing basket sizes at checkout kiosks, and leveraging beacon technology to deliver customized offers to customers in-store. Kumar says mall management can use the same video analytics platform to optimize placement of retailers within their site so net sales increase. Being able to tell which aspects of products resonate (or not) is valuable to retailers. And increasing numbers of them are willing to pay for such brick-and-mortar intelligence, Kumar says.
Kumar is excited about the growth prospects of AI: Recent predictions show a compounded rate of 35% until 2025. "What I am also hearing is that people don't want to work with 17 different vendors to achieve 17 different outcomes," Kumar says. "That's where we come in; we deliver a holistic solution that delivers easy-to-understand business intelligence for C-suite and operational staff."
The proof is in the pudding. Retail video analytics helped Town Talk reach its 2021 revenue goals two months early. The retailer plans on using this technology in its other locations as well.
This article was edited by Christina Cardoza, Associate Editorial Director for insight.tech.