9 IoT Innovations at Cisco Live 2019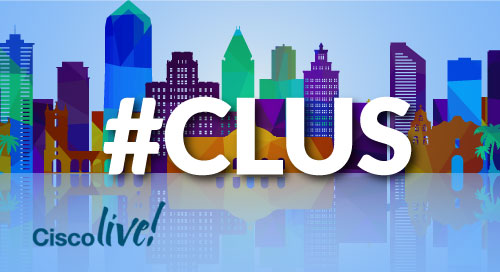 To connect with thousands of technology innovators and learn about emerging IoT and industrial solutions, head to Cisco Live 2019 (June 9–13 in San Diego) for five days of immersive sessions, networking events, and demonstrations. Here are nine demos you'll want to see for yourself:
1. Cutting-Edge Cloud Infrastructure
With vast amounts of collected data comes the need for rapid computing at the edge. One solution, SAP HANA with Apache Pass on the Cisco Unified Computing Server (UCS), provides enterprises with a pre-validated infrastructure that's ready to go, able to process large amounts of data at the edge and deliver immediate results.
Applications of this technology include industrial IoT (IIoT), retail, banking, and more. Check it out at the Intel® booth (Hall C, #2035).
2. Smart Supermarkets
Shelf monitoring has been around for a few years, but Vispera is taking it to new levels by incorporating image recognition technologies to keep supermarket shelves well stocked. A mobile app guides retail personnel in taking shelf photos with their smartphones.
Vispera uses the Cisco Hyperflex architecture with Intel® Optane™ DC-SSD, a cloud-enabled hyperconverged platform that supports digital retail, to analyze the visual data and deliver actionable insights. See a demo of the technology, including theIntel® OpenVINO™ Toolkit, at the Intel® booth (Hall C, #2035).
3. Comprehensive Edge Computing
The IoT's success depends on the speed of business data collection and analytics. Because processing must happen at the right place at the right time, there's a need for real-time analytics close to the location where data is generated.
Case in point: Lighthouse Technologies is showcasing a public safety solution based on Cisco's IR809 Rugged Gateway and Ruggedized Server and VECTOR: VSBLTY's facial recognition and weapon detection applications.
Public transit systems are one use case for this solution (check out our story on How IoT Is Transforming Mass Transit). To see the platform in action, stop by the Intel® booth (Hall C, #2035).
4. Epic EHR Innovations
Electronic health records are revolutionizing healthcare, and Epic EHR is leading the way with its patient portal MyChart. Patients use the platform to access lab results, send messages to doctors, and participate in telehealth appointments.
Epic's end-to-end solution features all-NVMe Cisco Unified Computing Server (UCS) servers using Intel Optane DC SSDs, enabling increased agility and decreasing total cost of ownership. Check out a demo at the Intel® booth (Hall C, #2035).
5. Connected Railways
Railway systems around the world face challenges caused by lack of communication among existing systems. IoT solutions such as Cisco Connected Rail can solve many of those dilemmas by streamlining preventive maintenance and adding digital amenities for riders.
Cisco's solution allows railroads to create their own networks using Multiprotocol Label Switching (MPLS), a routing technique that enables higher-speed connections and improved traffic flow. Check out a demo of Cisco's ASR 900 router series at the Intel® booth (Hall C, #2035).
6. Next-Generation Data Center Automation
Enterprise data centers are handling increasingly complex applications and more users than ever before. New data center switches like the Cisco Nexus 9K provide a next-generation solution that includes Intel networking solutions and connects to Amazon Cloud. Head to the Intel® booth (Hall C, #2035) to see it in action.
7. Know Your Customer
If you are in the retail industry, you'll want to check out the Intel OpenVINO-based Mobiliya Vision Analytics platform in the Cisco HyperFlex Powered Branch Demo at the Cisco Showcase Data Center Zone. It shows how vison can be used to provide insights within a store, using facial detection and sentiment analysis to help merchants understand customer preferences.
8. Smart Sidewalks
For more demos, check out the Cisco IoT Connected Communities Village (sponsored by Intel at booth #513). One highlight is the BoldVu Smart Point Kiosk IoT data aggregation solution from LG-MRI.
BoldVu starts with a heavy-duty display that can withstand life on the street, and then add loads of intelligence. With 40,000+ displays across 150 global media markets, BoldVu powers services ranging from transit information, interactive wayfinding, highlighting events, and pointing out places of interest.
All data from IoT devices, like cameras and environmental sensors, are processed, stored, secured, and accessed via Cisco and Intel devices housed within the BoldVu®, creating communications efficiencies achievable only by processing data at the edge.
9. And More!
And that's not all—the Cisco IoT Connected Communities Village is full of other impressive demos. Examples include portable enterprise-grade data storage networks and connected rail/roadways technology from Klas Telecom, and connected transportation solutions from Presidio.
Make sure you leave time in your schedule to see it all!