20 IoT Twitter Influencers to Follow in 2020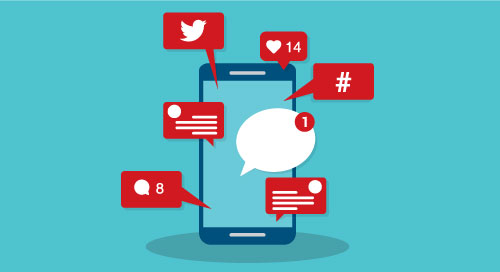 Whether you're looking to catch up on industry trends or take a break with geeky memes, Twitter is the place to go. Last year we announced our first list of must-follow tweeters in the IoT space, and we're back with our (new!) top 20 for 2020.
Think we missed someone? Tweet us: @insightdottech.
1. Ronald van Loon
Want the latest on AI, machine learning, and Big Data? Ronald has you covered. His feed is constantly updated with leading ideas on data science from companies like HPE, Oracle, and SAP. And he has live coverage of IoT shows around the world!
2. Lucian Fogoros
Lucian is obsessed with industrial IoT—he even started his own publication on it: IIoT World! No surprise, his feed covers major IIoT topics like security, AI, and AR. Plus, he travels the globe to bring you updates from the biggest IoT shows.
3. Maribel Lopez
If you are looking for true thought leadership on topics like next-gen mobile, machine learning, and AI, Maribel is highly recommended. She is a well-respected analyst whose work regularly appears in publications like Forbes.
4. Colin O'Flynn
One of the smartest techies on our list, Colin trained as an electrical engineer. His geek cred includes programming, PCB design, FPGA design, and more. Worth a follow if you are into the nerdy side of Twitter—or if you just enjoy geek humor.
5. Peggy Smedley
Like a true Renaissance master, Peggy shares her passion for IoT and emerging technology across all kinds of media, including podcasts, articles, and more. Her main goal is to inspire innovators… so if you are looking for motivation, check out her feed!
6. Chelsea L. Andrews
Chelsea focuses on disruptive tech, including IoT, cloud, AI, and 5G. She loves interviewing tech workers to get their perspective on digital transformation—and brings a sense of dev humor to the conversation.
7. Mike Quindazzi
Want to get the big picture on global trends in emerging tech? As the Digital Alliances Sales Leader at PricewaterhouseCoopers, Mike has invaluable insights for his C-suite peers. (And lots of interesting perspectives for the rest of us, too!)
8. Jeff Barr
Developing apps on AWS? Want to know what's next for the cloud? Then you'll want to follow Jeff, who is the Chief Evangelist for Amazon Web Services. He links to lots of training resources, so you can do a deep dive whenever you want.
9. Antonio Grasso
AI. Blockchain. FinTech. IoT. These aren't just buzzwords—they are what you'll learn about when you follow Antonio. (Plus cybersecurity, sustainability, and more!) A big-picture thinker, his feed is a great place to track the trends that matter.
10. Jez Humble
He literally wrote the book on DevOps (with his co-authors, of course), so Jez is a must-follow for anyone interested in modern software development practices. And he has plenty to say on non-tech topics as well, making for a very lively feed.
Get your geek on with @insightdottech's top 20
IoT Twitter influencers
11. Nicole Forsgren
Co-author of the leading DevOps book, Nicole has tremendous insight into software development—and an invaluable perspective in the dev culture. Come for the geeky goodness, stay for the snarky comments.
12. Stacey Higginbotham
Arguably the biggest authority on consumer IoT, Stacey is a top-notch blogger and podcaster. Follow her for the latest on chips, broadband, security, and smart home standards.
13. Kevin C. Tofel
Formerly with Google, ZDNet, and GigaOM, Kevin has partnered up with Stacey Higginbotham to bring his unparalleled expertise to the world of IoT. Plus, he's an expert on Chromebooks!
14. Zack Whittaker
Currently the Security Editor at TechCrunch and a former CBS reporter, Zack has the inside line on the latest hacks and security threats. Worth a follow whether you are trying to build secure systems or just keep your personal data safe.
15. Cassidy Williams
A leading expert on React coding, Cassidy is perhaps better known for her top-tier memes and TikTok presence. Browse her feed and you'll laugh, learn, and discover a ton of other amazing geeks you'll want to follow.
16. Daniel Elizalde
Daniel has an impressive resume, serving as both the Head of IoT at Ericsson and as an IoT Instructor at Stanford. As you'd expect, his feed is full of thoughtful insights on next-gen technology, particularly as it applies to sustainability.
17. Mike Tamir
Mike also has an impressive resume, heading Uber Advanced Technologies Group and teaching data science at UC Berkeley. His thoughtful and smart tweets focus on deep learning, machine learning, AI, and data science.
18. Andy Stanford Clark
Are you interested in MQTT, the leading IoT protocol? So is Andy. He tweets on a wide range of tech topics, with a focus on Linux and maker boards.
19. Jonathan Ballon
The head of IoT at Intel, Jonathan tweets about the impact of technology on the environment, education, health, and more. If you want to know where the company is headed next, Jonathan has an insider's perspective that you won't want to miss.
20. Alasdair Allan
Alastair is something of a polymath, working as a scientist, author, hacker, maker, and journalist. As you'd expect, his feed is highly varied, covering everything from privacy issues to his latest Raspberry Pi builds. And he has some of the best rocket-launch coverage on Twitter!