11 Must-Sees at Hannover Messe 2019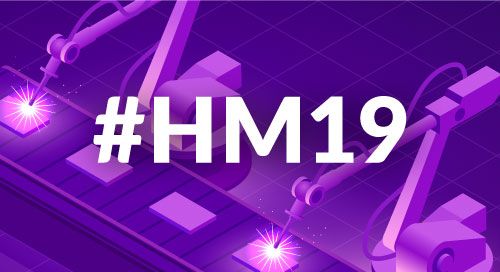 For the latest in Industry 4.0 and industrial IoT, the Hannover Messe trade show (April 1-5) is hard to beat. Here's our list of must-see speakers and technologies at the event.
1. Keynote: End-to-End Industry Transformation
Kicking off our list is a keynote on the big-picture trends driving the industry, such as AI, machine vision, virtualization, and 5G. Speaker Christine Boles, GM for the Intel® Industrial Solutions Division, will examine how these changes require new thinking from the factory floor to the enterprise office—and how you can make the leap.
Catch the talk Tues Apr 2 at 4:45 PM in Convention Center Room 2.
2. Mechanized Music
What's cooler than a robot playing drums? Two robots playing drums!
KUKA has blended its robotic expertise with Time Sensitive Networking (TSN) technology from TTTech to create a drumming duo that collaborates over Ethernet.
See (and hear) it in Intel® booth Hall 6, Stand D46 – and check out this YouTube video to see what happens when a whole robot band starts to feel the beat.
3. Predictive Maintenance Starts with People
Want to implement predictive maintenance? Start by talking to your operations staff. That's how Capgemini finds success with its asset monitoring solutions, as explained in this recent article.
See a demo of its unique approach at Intel booth Hall 6, Stand D46.
4. Securing the Digital Factory
Is your factory secure? What about its connection to the IT environment? What standards and procedures should you follow to make sure?
Find out how you can keep both sides of your network safe in the timely talk "IT Security meets OT" by Paul Didier, a Solution Architect at Cisco.
It starts at 11:30 AM on Apr 5 in the Forum Industrial Security, Hall 6, Stand F03.
5. Machine Vision Made Easy
Machine vision is one of the hottest trends, but it's a complex technology. That's why Advantech has created an end-to-end solution that covers everything from OCR to defect inspection, all designed so nontechnical staff can train the system.
See it for yourself at Intel booth Hall 6, Stand D46.
6. Robots Roam the Floor
Want to really boost warehouse efficiency? Install a fleet of self-guided robots! Modern warehouse robots quickly route packages, shelves, and entire racks—keeping operational costs low and efficiency high.
Check out these clever bots (built by Hikvision) at Intel booth Hall 6, Stand D46.
7. 5G, You Say?
5G looks like it will be huge for the IIoT. So it's no surprise the show organizers have set up a 5G Arena full of 5G test beds and initial applications of 5G in industry. There is also a series of talks, such as the 5G Positioning for IoT presentation by Fraunhofer.
Head over to Hall 16 to discover everything 5G has in store.
8. PLCs Plug into AI
To fully benefit from AI, you need to deploy it within existing infrastructure. That just got easier thanks to a plug-in AI module from Siemens. Not only does the module slide right into existing PLCs, it works seamlessly with Siemens existing software infrastructure.
Connect with this new tech at Intel booth Hall 6, Stand D46.
9. Smart Building-as-a-Service
Deploying and managing building automation systems can involve a complex mix of stakeholders and legacy systems. That's why Arkessa created a unique smart building-as-a-service that includes everything from installation to WAN contracts.
Find out how it all comes together in Intel booth Hall 6, Stand D46.
10. Mobility as a Service
Speaking of XaaS, Fujitsu will present what it calls "mobility as a service," where your vehicle is defined more by services and software than hardware. If emerging automotive technology is your thing, be sure to catch the secure Over the Air Update Solution (OTA), which enables remote installation all types of software updates into vehicle fleets.
More info is at Fujitsu booth Hall 7, Stand E16.
11. Clear the Fog
Are you in the fog about where to place computing within your industrial network? Nebbiolo can answer these questions to achieve both real-time performance and secure operation with its fog-based technologies.
Catch a demo of its technology running atop Siemens industrial PCs at Intel booth Hall 6, Stand D46.