10 Best Industry 4.0 Sessions at IOTSWC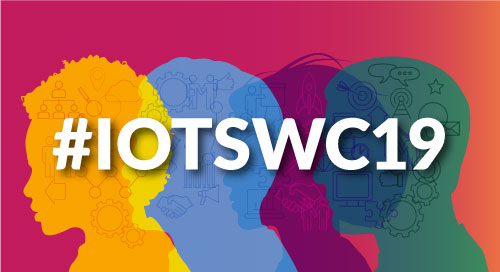 Want the latest insights, solutions, and news about Industry 4.0? Book your ticket to the IoT Solutions World Congress, October 29 – 31 in Barcelona.
IOTSWC is a huge show, with more than 400 speakers last year. It can be easy to miss the best events in a convention of this size, so we scouted out the top-10 sessions to add to your calendar. We even put them in order so your schedule is all done—except when you need to choose between multiple amazing events going on at the same time. (You're welcome!)
Workers and Machines Unite
In the movies, humans and robots always fight for supremacy. But in Industry 4.0, people and machines collaborate to create improved operations, workplace safety, and productivity.
Security Maturity
How secure is your business? The IoT Security Maturity Model (SMM) helps organizations set security maturity targets and undergo regular assessments to make sure they reach those targets.
At "Applying and Extending the IoT Security Maturity Model," two of the authors of SMM—one from Microsoft and one from Entrust Datacard—explain the model's design and how to apply it, plus offer a case study that explores SMM.
This event is October 29 from 3:30 – 4:35 p.m.
Virtual Twins for the Win
A digital twin isn't someone on Facebook who looks just like you—it's a digital replica of an object or process that helps optimize performance in real life.
Check out the panel "Evolution of Digital Twins in Factory Automation," which includes Brad Surak, Chief Product and Strategy Officer of Hitachi Vantara. You'll learn how businesses use digital twins right now to improve industrial automation of OEM factory lines, model nuclear reactors to predict performance, and more.
This panel is October 29 from 4:40 – 5:25 p.m. in Room 1.
Unlocking Opportunities with AI
AI can transform business. "How AI & Machine Learning Builds A Better Manufacturing Process" will give you the full scoop. Panelists like Said Tabet, Senior Technologist at Dell, talk about how leading manufacturers use AI, machine learning, and IoT technology—including details on manufacturing trends, ROI, and integration strategies.
This panel is October 29 from 5:30 – 6:15 p.m. in the auditorium.
From DIN to PAAS
Want to know how the value proposition of Product-as-a-Service can be realized for all suppliers in the industrial equipment supply chain? Learn all about it from Clemens Vasters, Principal Architect of Messaging Services and Standards at Microsoft, and other panelists at Cloud-to-Cloud Telemetry Federation in Industry 4.0.
Panelists explain how the DIN 92222 standardization effort attempts to answer questions about how telemetry streams are structured, how they're routed, filtered, and split, and how trade secrets can be protected.
This panel is October 30 from 4:35 – 5:20 p.m. in Room 4.
IIoT at the Edge
It's a no-brainer that every business wants to modernize and improve its industry processes. What's not a no-brainer is how to make this happen. Get some tips in "Extending Machine Learning to Industrial IoT Applications at The Edge" on October 30 from 4:35 – 5:20 p.m. in the AI Forum in Room 7.
An AIoT Transformation
There's AI, there's IoT—and there's AIoT, which combines the two. AIoT offers the possibility of transformational business growth, from personalization for the connected patient in healthcare to the prediction of component failures in industry.
The session "Bringing AI to the Edge covers the benefits of AIoT, what innovations in computer vision technology bring to the IoT, and applications of the technology in industrial safety and agriculture. Juthika Khargharia, Global IoT Evangelist at SAS, is one of the speakers.
Enjoy the session on October 30 from 4:35 – 5:20 p.m. in Room 3.
A Drive to Connect Legacy Devices
Seeing is believing: Danfoss Drives has a vision of achieving the full capacity of industrial IoT with the help of intelligent AC drives. The company executed a full-scale trial that connects an existing factory using its own drives to serve as smart IoT sensors.
At the session "Enabling Digital Transformation by Connecting Legacy Devices," Danfoss Drives and Omnio explore the project. They show how the trial enhanced AHU energy efficiency and improved conveyor uptime using a mix of more than 100 types of intelligent drives, all connected to the cloud, without disrupting factory operations.
You can see for yourself on October 30 from 6:15 – 7:00 p.m. in Room 1.
Going Global with Bluetooth IoT
Bluetooth is helping businesses derive data from more machines, at a lower cost. In "Overcoming The IIoT Challenges Of Condition Monitoring And Predictive Maintenance," speakers from Cassia and ABB share how they used Bluetooth to scale product data management globally. ABB also explains how it used other Bluetooth products to replace the need for technicians and achieve other business wins.
Get in the know on October 31 from 12:05 – 12:50 p.m. in Room 1.
Maintaining (Not Just Deploying) IoT
Everyone is on board about the importance of deploying IoT technology, but we also need to think about managing and maintaining those IoT devices. The session "Simple and Smart Experiences: Bringing Service Management to IoT," with speakers from Volteo and Intel®, explores best practices for these services.
Learn how October 31 from 12:55 – 1:40 p.m. in Room 2.