Fill form to unlock content
Error - something went wrong!
Get the latest updates on IoT for smart cities.
You are following this topic.
Video Surveillance Secures the World Cup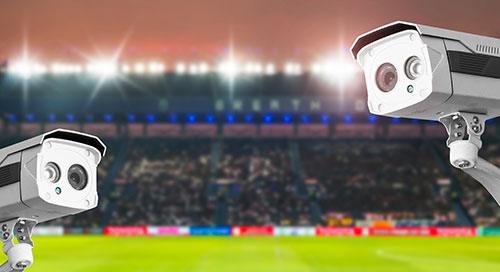 As one of the worlds' largest sporting events, the World Cup presents massive security challenges. For example, the 2018 World Cup included 64 matches in 12 stadiums across 11 Russian cities, drawing more than 3 million live spectators. To keep an eye on these far-flung proceedings, officials needed a highly automated, massively scalable surveillance system.
Key requirements included license plate and facial recognition, people counting, and detection of specific objects. To deliver these features, security staff looked for solutions with:
Artificial Intelligence (AI) deployed locally on cameras can accurately and automatically identify suspicious activity in busy video streams and flag it for security personnel.
Resilient networks ensure that high-definition video surveillance footage reaches security operations centers reliably and in a timely manner.
Fast video decoding at monitoring centers allows surveillance personnel to analyze and respond to dangerous situations in real time.
Of course, integrating these technologies into a unified, functional video surveillance system is easier said than done. For example, many locations were already outfitted with legacy cameras that do not support the performance demands of AI processing.
In addition, HD video surveillance streams often leverage the same network infrastructure as other connected event systems. This can create a minefield of interoperability issues stemming from the use of different hardware, software, and networking protocols, or require additional specialized equipment that increases network complexity.
All of this before considering the issues related to semi-permanent venues. For example, cost-effectiveness is of great importance for such facilities.
Securing the 2018 FIFA World Cup
The final solution included more than 9,000 IP cameras, 250 video channels, and proprietary network video recorders (NVRs) that piped video data to monitoring centers.
All of this equipment was integrated and AI-enabled by the Axxon Intellect Enterprise Physical Security Information Management (PSIM) Software from AxxonSoft US. This open platform combines intelligent video analytics and event-driven automation over a distributed peer-to-peer IP network backbone (Figure 1).

The platform delivers video analytics capabilities such as facial recognition, license plate recognition, and people counting as functional modules, allowing users such as the Russian Ministry of Internal Affairs to tailor cost, performance, and functionality to its specific monitoring needs.
How the OpenVINO™ Tool Kit Optimized Deployment
Perhaps the biggest benefit of the Axxon solution was its interoperability with existing technologies. The software is compatible with more than 10,000 video devices and more than 80 access control and security systems, allowing officials to minimize expenses by leveraging existing equipment.
But beyond interoperating with pre-deployed systems, PSIM Software actually enhanced it. The machine vision elements of the solution are based on the Intel® Distribution of the OpenVINO™ toolkit, which provides an abstraction layer for AI and deep learning across a range of processor architectures (Figure 2).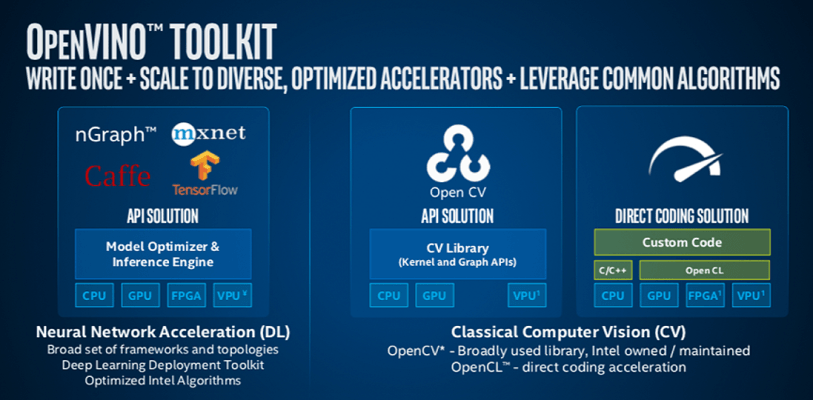 In fact, Intel® Core™ processor-based devices can achieve an 8x increase in deep learning performance after optimization with the AxxonSoft solution. Similarly, Intel® Xeon® processor-based servers exhibited an 8.3x deep learning performance improvement thanks to the OpenVINO toolkit.
As a result, the Ministry of Internal Affairs was able to implement advanced video analytics that accurately detected potential threats such as individuals, vehicles, and objects, and also mitigated false positives. Back in the control centers, other Intel® Vision Products helped World Cup security professionals increase efficiency and minimize infrastructure expenses.
Intel® QuickSync Video, for example, decoded massive video streams in real time, displaying more than 3x the number of full HD video channels per workstation than before. Since fewer workstations and operators were required, costs were further reduced.
AI and Automation Keep a Closer Eye on Security
As impressive as their performance is, Intel Vision Products such as those deployed at the FIFA World Cup are an application enabler as much as anything.
Thanks to the performance gains and architectural agnosticism provided by technologies like OpenVINO, AxxonSoft Intellect Enterprise PSIM Software can support advanced security capabilities like people counting, queue length estimation, smart video detection, and smart video searching by layering on software intelligence. Smart video detection, for example, empowers the software to identify incidents that match defined criteria; smart video lets users rapidly search for and extract video clips based on certain criteria as well.
Taking this enablement further, the AxxonSoft solution allows specified events to trigger automated responses. This could include opening fire doors in case of an emergency or projecting a hazardous area on video walls to inform response teams and the public.
The 2018 FIFA World Cup was uneventful from a security perspective, which is a testament to the people, processes, and planning of the event's surveillance systems. And to Intel Vision Products that gave their surveillance an AI eye in the sky.