Fill form to unlock content
Error - something went wrong!
Get the latest updates on IoT for smart cities.
You are following this topic.
Intelligent Video Analytics Activate Smart Cameras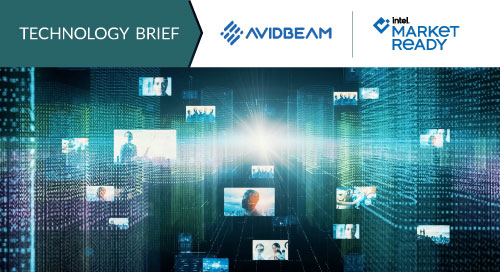 What do city streets, university campuses, sports stadiums, and factories have in common? Video cameras. They span a wide variety of locations and serve all sorts of needs—from traffic control to entertainment, manufacturing employee safety.
But there's a big challenge in all these scenarios. Video cameras may be widespread, but they're not smart enough to meet business goals or provide an adequate ROI.
Most security footage is observed by humans in real time. And even the most diligent person will experience distraction and lapses in concentration. But thanks to advances in processing and analytics, businesses and municipalities can use the video camera systems they already have in place to gain insights and information never possible before.
"A camera without analysis is almost a dead investment," says Hani Elgebaly, CEO of AvidBeam, a video data analytics company. "Because human security personnel have natural limitations, organizations need analytics to process noteworthy occurrences."
AI + Deep Learning = Smart Cameras
After spending 19 years leading R&D projects, Elgebaly co-founded AvidBeam in 2014. Since then, the company has developed a processing engine based on big data tools and deep learning modules to recognize and classify objects and patterns from real-time video streams. Elgebaly notes, "At AvidBeam, we have multiple applications enabling security, workplace safety, operational efficiency, and business intelligence. Our applications use AI and deep learning to extract useful insights from video streams and store them in a database or show them to customers in a visualized user interface."
With his technical and business background, Elgebaly sees the value in utilizing cutting-edge technology like that of Intel®. "Intel offers the powerful processors crucial for video analytics operation—from servers to smart cameras, to mobile devices," he states. "The technology helps us deliver optimal performance and enhanced experiences."
The AvidBeam solution was developed using training data and conventional AI tools such as TensorFlow, Tensor RT, and Café. The solution can detect, track, classify, and analyze video streams to extract objects, people, events, alarms, and more.
Extracted data is visualized through a web browser, so you can view it on any device, such as a laptop, tablet, or mobile phone. And because the solution synthesizes big data analytics to process and analyze massive amounts of video streams in near real time, it can scale to serve smart cities and enterprise organizations.
With the scalability of #AI-powered #video processing and analytics, applications can transform a wide array of use cases—from municipalities to #retail to #manufacturing. @AvidBeam via @Insightdottech
Intelligent Video Analytics Protect Privacy
Adding new technology to traditional cameras promises to achieve safety goals while still maintaining privacy. "We respect personal privacy, and don't maintain an individual's data," says Elgebaly. "We're providing tools for analysis, and in retail for example customer data stays on premise. And from that perspective, we comply with GDPR and other privacy regulations."
And with the scalability of AI-powered video processing and analytics, applications can transform a wide array of use cases—from municipalities to retail to manufacturing.
Smart Cities are especially well-suited to take advantage of video analytics. The technology helps cities create efficient, safer, more livable environments.
For example, traffic management can provide both safety and efficiency, with more and more cities implementing video analytics not for just to detect violations. Improving conditions for pedestrians and bicyclists, reducing roadway congestion, and improving air quality can all enhance city living.
"We discover new use cases on a daily basis, and we believe the industry is just scratching the surface of the potential of video analytics," says Elgebaly.
The Value of a Partner Ecosystem
One common concern for businesses is preserving their investments by integrating video analytics into existing platforms and workflows. Not only can use the video systems they already have in place, AvidBeam technology works with a wide range of video management solutions.
"We integrate with Video Management Systems such as Milestone so that alarms and alerts are shown in the user interface of the VMS," notes Elgebaly. "Our Milestone partnership is critical, as customers find us through their marketplace. Fortunately, all of our applications have native integration with Milestone, so we can accommodate current and future use cases."
AvidBeam also values its partnerships with solution providers and system integrators. Elgebaly adds, "We continually offer new opportunities for our partners that don't have the skills necessary to deploy these solutions for their customers. As a software-only provider, we focus on the technology and allow our partners to sell and install hardware and offer services.
The Future of Video Processing and Analytics
While video analytics technology may have many applications, we are still in the early adopter phase. "The future is very exciting. In addition to applications for Smart Cities and manufacturing, technology is poised to spread rapidly to diverse industries such as transportation systems, hospitals, and retailers," says Elgebaly.