Fill form to unlock content
Error - something went wrong!
Your content is just a step away. Please submit below.
Covering All Bases with Unified Security Solutions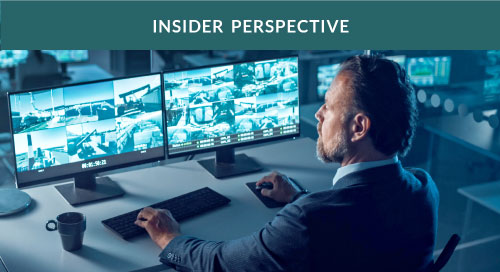 We've become so used to filtering the world through a computer or smartphone screen that it's easy to forget about dangers and concerns IRL. But cybersecurity is not the only game in town. Physical security is still necessary to protect our employees, products, factories—even our wildlife.
We talk with David Trujillo, Sales Engineer at AxxonSoft, a leader in video-management software, not just about preventing theft and damage, but about solving real-world challenges for businesses looking to protect people, property, and assets. He discusses the definition and benefits of a unified security system, the role of AI in that system, and some fascinating—and unexpected—use cases.
What are some features of the physical-security landscape today?
The first thing I would mention is the service approach to providing security solutions using cloud technology. Some examples are video surveillance and access-control systems. But given that security systems themselves have to be on-premises, what does a cloud-based solution mean in that context? A cloud service typically acts as a managing system that collects, stores, and analyzes data from devices. It also manages user rights, and provides access to administration and control-monitoring interfaces.
This is akin to a SaaS approach. For instance, video surveillance as a service—or VSaaS—systems can store video archives in the cloud, and you can have only the cameras installed at a site. Or you can have a hybrid deployment, with cameras and video storage both on-site but the cloud service used for remote video monitoring and system management. A cloud-systems solution offers users many benefits: There's low upfront expenditure, easy scaling for large-scale deployments, out-of-the-box remote monitoring, and clear cost planning through a pay-as-you-go model.
The other two big trends to take note of are integration and the use of artificial intelligence—namely neural-network video analytics. The first of these, integrated solutions, improves efficiency through more effective configurations that wouldn't be possible with standalone systems. Video surveillance can be combined with access control, smoke and fire detectors, intrusion alarms, and even building-automation systems. For example, when an alarm sensor is triggered, the video-monitoring software can be configured to immediately give the operator video feeds from nearby cameras, enabling that person to assess the situation quickly and react accordingly. Another example: When the last employee leaves the premises at the end of the day, you can set it so the lights automatically go out and the ventilation switches to a lower intensity. The intrusion alarm can be armed at the same time. There are plenty of scenarios like this, where automation can make facilities more secure, energy-efficient, and cost-effective.
"#IntegratedSolutions improves efficiency through more effective configurations that wouldn't be possible with standalone #systems." – David Trujillo, @AxxonSoft_EN via @insightdottech
What's the difference between integrated and unified security?
They're often used interchangeably, but in general the term "integration" usually comprises a wider variety of solutions. Let's consider an example where you have video surveillance and access-control systems. When someone swipes their access card at the reader, the video-surveillance system receives an event from the access-control systems, which then triggers video recording. This way you get recorded footage every time someone passes through an access point. The event itself may contain the employee's name and their ID number, so the footage can quickly be searched for those parameters. In this example of event-based integration, the systems are independent, with each one having its own user interface, separate configuration, hardware, and so forth.
"Unified" implies a deeper level of integration, where unified software manages all devices—both video cameras and access-control devices in our example. So what are the benefits of that? First, there's a single interface for video and access control, which is complemented by other features like a 3D map, for example. The access-control database photo of the ID-card owner might be displayed next to the face image captured by the camera along with, for example, their name, their job title, and any other pertinent information. You can grant access manually if the photos match, or you can take appropriate action if there's a mismatch. You can do all of this from just one interface without needing to switch between windows, and you can monitor technical perimeters like hardware status or system health all in one place.
Are there other benefits of unified security?
Benefits include implementation of new features that aren't available within self-contained systems. This produces improved situational analysis based on information from multiple sources, while reducing the amount of information an operator has to process. This makes the operator's work more efficient, which in turn reduces the likelihood of mistakes. Additionally, open-platform solutions allow you to combine equipment from different manufacturers and manage it all from a single control center. This minimizes the cost of equipping the facility by reducing the amount of software and hardware needed.
And this isn't just limited to security. For example, time and attended systems that are typically included as part of access-control systems can be integrated with corporate accounting, providing for efficient and automated workflow. Traffic-enforcement cameras can be integrated with systems to issue fines for violations. There are plenty of solutions where interoperation has the ability not only to improve security but also to optimize business processes.
Talk about the role of AI in enabling some of these opportunities.
AI is often used for accurate detection of specific shapes and objects. In the context of security-related applications, the greatest demand for this is detection of human intrusion in a protected area where there's a large amount of nonrelevant motion such as foliage blowing, rippling water, precipitation, etc. A simple motion detection will produce numerous false alarms when it picks up everything that's moving. AI helps to filter out false alarms, so operators won't be distracted by them and can focus only on real threats. When every single possible thing is causing an alarm, operators will quickly learn to ignore them, and they're going to miss it when something serious actually happens.
How does AxxonSoft ensure data privacy?
In a lot of different regions around the world—for example, in Europe with the GDPR, and in California with the CCPA—there are various local regulations that protect people's rights in this way. And, of course, AxxonSoft offers features that allow the VMS to be in compliance with those regulations. Various things we can do include blurring people's faces, or even their whole bodies—AI analytics are able to detect where a person is and accordingly blur only those details, instead of blurring the entire image. We can also block off certain areas of the footage that might not be appropriate to view, and control exactly who is able to see them.
What are some of the challenges businesses face as they add these new capabilities?
Implementing a unified security system is more complex than implementing a standalone one. You're going to need a more qualified integrator, and possibly custom integrations and functionality enhancements. This is crucial for high-end installations like systems for large enterprises, or in citywide-public safety setups.
I know one concern a lot of people have is "Will this work with my existing cameras?" But that's something we definitely keep in mind. We want to have our system always work with existing systems, not require people to tear out all their cameras and install new ones.
What are some customer examples or use cases of AxxonSoft making all this possible?
We have a few great examples. For a case of AI human detection, we have several implementations of this technology in wildlife refuges in South Africa, where systematic poaching is a devastating epidemic. Most of the parks where these poaching crimes occur are fenced, but protecting these areas with perimeter security systems and video surveillance hasn't really been effective. Those systems generated quite a few false alarms because the animals themselves frequently bump into the fences. Security staff could not possibly monitor every single event, and they frequently misread the threats when poachers actually intruded. AI human detection has helped solve this problem by distinguishing humans from animals.
An example of custom-trained AI analytics is detection of personal-protective equipment, used for enforcing workplace safety. It locates individuals not wearing their hard hats, high-visibility vests, or other protective clothing—the system can actually detect someone's head, torso, and legs independently to check for the appropriate gear. You can integrate that with access control, and the system becomes even more efficient through preemptive detection. The camera can be mounted at an access point, and when an employee swipes their access card, the turnstile will only open if they're wearing their protective equipment.
Integration of video surveillance with third-party systems is also widely used for cashier operations and supervision at point of sale. The video-surveillance system receives data from cash registers, then links that to video feeds; you can superimpose the text of a receipt, for example, on the video. You can also use data from the receipt—such as product name, price, or transaction amount—to quickly search the recorded footage. It really offers a full picture of what's happening at the checkout, and could be used to reveal violations that would be almost impossible to detect via conventional video surveillance.
How is AxxonSoft working with other companies in the industry?
We're in constant cooperation with Intel, as well as other software and hardware manufacturers. But Intel processors are at the core of most security-system servers our clients use. AI video analytics are very resource-intensive, so hardware-AI acceleration is crucial for building cost-effective solutions. We use the OpenVINO™ toolkit from Intel for computer-vision applications; this maximizes performance by extending workloads across Intel hardware, including accelerators. Our AI analytics can run on both Intel processors and accelerators.
We also apply Intel® Quick Sync Video technology, which is available on Intel processors with embedded GPU. It provides hardware acceleration for video decoding. AI analytics are not the only processes with heavy computer requirements; video recording can be a demanding task, too. So we use Quick Sync on both the server and the client side.
We also collaborate with IP-camera manufacturers to support embedded video analytics and other advanced capabilities, such as smart codec. "Embedded video analytics" refers to cameras that are running their own kind of AI detection, and that kind of detection integrates perfectly with our own. AxxonSoft is a contributing member of ONVIF, an open-industry forum that provides and promotes standardized interfaces for the interoperability of IP-based physical-security products, and we strive to support the newest standards as they appear.
AxxonSoft is an extremely partner-oriented company, and many integrations and functionality enhancements have been made based on partner requests and their specific project requirements. We're always open to listening to our partners and customers, making for the most suitable solutions for a wide range of industries and applications.
Related Content
To learn more about unified security, listen to the podcast Why Unified Security Solutions Matter: With AxxonSoft. For the latest innovations from AxxonSoft, follow them on Twitter at @AxxonSoft_EN and on LinkedIn.

This article was edited by Erin Noble, copy editor.