What's OnAir: Your Guide to Google Cloud Next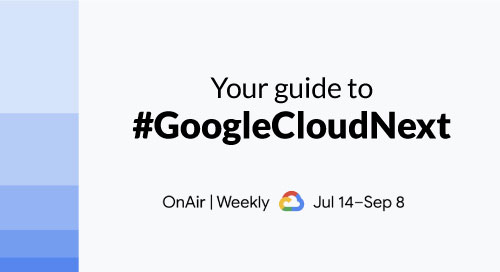 Google Cloud Next '20 is right around the corner. Starting July 14, for the first time it's all online—and free—with nine weeks of great speakers, panels, demos, and much more. If you're wondering what's in it for you, here's a behind-the-scenes look at the technology that powers Google's innovations—and why it matters.
Modernize Your Infrastructure
One of the biggest developments is the update to the Intel®enabled Google Cloud Platform (GCP). The new N2, C2, and M2 instances are optimized exclusively for 2nd Gen Intel® Xeon® processors, with benefits including:
Up to 2X better floating-point performance and 40% better general performance, and built-in AI interference acceleration on C2 instances
Up to 20% better price/performance on N2 instances
SAP-certified VMs with up to 12 TB of memory on M2 instances
Multi and hybrid cloud solution support via Anthos
Companies like ClimaCell are already taking advantage of the new tech. Its software-based weather engine produces data from millions of sensing points with AI-powered insights to produce some of the world's most accurate and granular micro weather data. By using GCP it achieved a 40% increase in performance at a 40% lower cost.
New C2 instances also are proving themselves in compute-heavy applications in other segments like retail, where customers are gaining big advantages. Intel® and Google Cloud partner Datatonic tested out online inference performance on the Product Recognition Computer Vision model built for Lush, a cosmetics company using in-store imaging to become environmentally friendly with packaging-free products.
Datatonic benchmarking found that 2nd Gen Xeon processors were the best Intel CPU solution available for GCP ML processes. All benchmarks were run on Google Cloud Compute Engine on 8 vCPUs, using the Intel-optimized TensorFlow. Read more about the benchmarking Datatonic here.
Behind the scenes of Google Next with @googlecloud? 2X faster VMs with built-in AI and hybrid cloud support.
Collaboration Launches AI and ML Out of This World
NASA Frontier Development Lab (FDL) has teamed up with Intel and Google Cloud on an array of projects that help researchers use AI and ML—from edge-to-cloud—to predict important events and enhance our knowledge of the Earth.
For example, to better predict and respond to floods, an Intel® Movidius™ Myriad™ Vision Processing Unit is about to be launched into space. The edge can't get much farther out than on board a European Space Agency satellite. The VPU allows researchers to run AI models on the satellite without the costly and time-consuming step of transmitting the massive amounts of data back to Earth. New ways of predicting flood susceptibility gives researchers more time to prepare—and save lives.
And there's much more to learn about the collaboration between NASA FDL, Intel, and Google Cloud.
Discover Advancements Built for Enterprise Workloads
Intel processors in Google Cloud offer balanced performance to suit virtually every need, including the most demanding workloads such as HPC, SAP HANA, Oracle, and VMWare. During NEXT OnAir you will be able to hear how to adopt the advancements that will drive your competitive advantage.
The company also announced the Google Cloud VMWare Engine (GCVE). Powered by 2nd Gen Intel Xeon Scalable processors, GCVE helps customers migrate and run VMWare workloads natively on Google infrastructure.
And Google announced it is expanding the global reach of its Bare Metal Solution based on 2nd Gen Intel Xeon Scalable processors. This means more businesses can run specialized workloads such as Oracle databases close to Google Cloud, while lowering overall costs and reducing risks associated with migration.
For intelligent enterprise workloads and AI acceleration, customers are running SAP HANA databases on GCP—certified on 2nd Gen Xeon processors N2 and M2 instances.
Cardinal Health migrated its SAP HANA landscape to a 12 TB Google Cloud environment, giving the health organization an outstanding platform for growth as it looks to optimize and scale. And the results are notable: To name just a few, Cardinal has seen a 25% reduced cost, higher availability, and superior disaster recovery.
Anthos: Be Cloud Agile for Continuous Innovation
Hybrid cloud computing is an optimal way to provide the flexibility needed for digital transformation and improved TCO, but getting there can be a challenge. Intel and GCP have co-engineered an Intel® Select Solution for Google Cloud's Anthos, simplifying the move to hybrid and multi-cloud.
Intel® Select Solutions are predefined, workload-optimized solutions designed to minimize the challenges of infrastructure evaluation and deployment. Solutions are validated by OEMs/ODMs, certified by ISVs, and verified by Intel. Intel develops these solutions in extensive collaboration with hardware, software, and operating system vendor partners and with the world's leading data center and service providers.
Every Intel Select Solution is a rigorously benchmark-tested and custom-tailored combination of Intel data center compute, memory, storage, and network technologies that delivers predictable, trusted, and compelling performance for optimally running Anthos.
The Intel Select Solutions pre-tested and validated Anthos Ready configurations make use of customers' VMware vSphere and VMware vSAN environments, allowing enterprises to create and manage modern hybrid applications one time, using Kubernetes optimized for Intel architecture and running them anywhere—whether across public clouds or on-premises.
Intel Select Solutions are scaled through Google's top Anthos OEMs such as Lenovo, and through Systems Integrator partners worldwide, including WWT, SHI, and QCT. This accelerates deployments of workload-optimized Anthos designs and reduces total cost of ownership (TCO) to Enterprise customers by allowing them to verify against minimum performance guarantees, as established by Intel.
One great example is how Cisco and Google Cloud are making it possible to run distributed workloads in production-ready hybrid environments—enabling a common methodology to support microservices from edge-to-cloud.
Proof in point is how Cisco customer KeyBank jump-started its digital transformation. Using Anthos on Cisco HyperFlex—enabled by Intel technologies—it deployed a modern infrastructure. KeyBank is using Anthos for hybrid connectivity and multi-cloud application deployment—supercharging its DevOps processes and simplifying systems provisioning and management.
Taking Full Advantage with Intel® OpenVINO™ Toolkit
Turning to the retail space, self-service is in high demand in the age of social distancing. MeldCX has built an innovative e-parcel kiosk—called Project SALi—to transform package delivery at the Australian Post. The MeldCX cloud platform is built on GCP for AI and ML edge-to-cloud processing.
Using Chrome at the edge, the kiosk handles everything needed to "lodge" the parcel and ship it out the door. Using the OpenVINO™ Toolkit MeldCX takes full advantage of the compute power of Cascade Lake to optimize AI models. And using AI building blocks makes it possible to deploy new models and applications with low code development.
Engage With the Insiders
Be sure to catch the CTO Round Table, where a panel of experts will discuss how you can make the best use of digital transformation and drive positive outcomes during disruptive times. Intel, Google Cloud, and key technology partners will describe how customers are expanding their technology scenarios and maximizing their savings. You'll find it on the schedule—Thursday, July 30 at 8 a.m. PST.
Also watch for the Executive Video with Rose Schooler, Intel CVP, Global Data Center Sales, and Jonathan King, Managing Director of Strategic Technology Partnerships at Google. They'll be sharing the Intel and Google Cloud four-pillar alliance strategy to support customers in their unique journey: from infrastructure modernization, including compute and workload consolidation, to app modernization with Anthos and telco initiatives. Gain new perspectives on how you can take advantage of your workloads on the cloud today and tomorrow.
Don't Miss This Learning Opportunity
NEXT onAir is packed with ideas, solutions, and innovations. There's a lot to discover about how you can benefit from the big role Intel plays in powering GCP. Who knows, you may be inspired to build your next project—delighting your customers with breakthrough performance. The possibilities are endless.
Footnotes for Performance Claims
1. "The new Compute-Optimized VMs offer a greater than 40% performance improvement compared to current GCP VMs." Bart Sano, VP of Platforms, Google Cloud
2. C2 instance all-core turbo CPU frequency is 3.8 GHz, with the lowest first-generation N1 machine type base frequency being 2.0 GHz. Note, all-core turbo not available for first-generation N1 instances. Improvement from 2.0GHz to 3.8GHz = 90%.
3. "The new general-purpose machine types (N2) offer greater than 20% price-performance improvement...compared with first generation N1 machines." —Hanan Yousef, Product Manager of Compute Engine, Google Cloud
4. "The new general-purpose machine types (N2) offer greater than 20% price-performance improvement for many workloads and support up to 25% more memory per vCPU compared with first generation N1 machines." —Hanan Yousef, Product Manager, GCE
5. "With double the FLOPS per clock cycle compared to previous-generation Intel® Advanced Vector Extensions 2 (Intel® AVX2), Intel® AVX-512, [built into 2nd Gen Intel Xeon Scalable Processors] boosts performance and throughput for the most demanding computational tasks in applications, such as modeling and simulation, data analytics and machine learning, data compression, visualization, and digital content creation." https://www.intel.com/content/www/us/en/products/docs/processors/xeon/2nd-gen-xeon-scalable-processors-brief.html
6. "Preemptible VMs are up to 80% cheaper than regular instances." —Google Cloud Blog