Fill form to unlock content
Error - something went wrong!
Your content is just a step away. Please submit below.
Video Management Systems Offer New Business Opportunities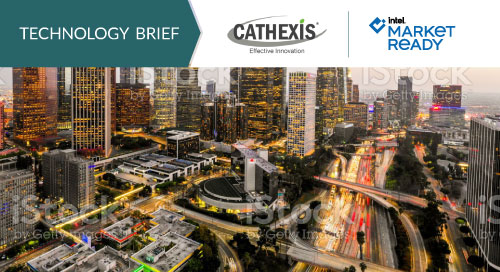 At a time when most people carry a camera in their pocket, being on camera isn't a big deal anymore. Just about every place you go has them—performing a variety of tasks. In public spaces, cameras capture information to improve safety, traffic flow, parking, and more.
In a bank, cameras may be connected to money-counting systems for accuracy and accountability. And in hospitals, shift supervisors can use cameras in the ER as patients are rolled in to immediately page doctors and nurses. At a mine or quarry where crews extract high-value materials from the earth, cameras may be linked to weighing systems where operational improvements are the goal.
For example, a South African platinum mine that runs 6,000 cameras uses them for efficiency purposes. The platinum mining generates nickel as a byproduct. Crews have to weigh huge bags of nickel on a scale. They were using notepads to record weights and later enter them into a computer. With South Africa-based video management system developer Cathexis, weights are automatically captured from camera footage and recorded, accelerating the process.
At a stone quarry, Cathexis put an end to the crew's practice of giving customers special deals when weighing slabs or crushed rock. "By integrating the weighbridge information and the video together, we could then print on the invoice the exact image of the aggregate that was being sold and thereby prevent theft and shrinkage," says Gus Brecher, Co-Founder and Global Business Development Director of Cathexis Technologies.
Whatever the use case, Cathexis is ready to tackle it. In business for nearly three decades, the company seeks to differentiate itself by providing innovation with a purpose in an increasingly crowded market. "Whenever we add a new feature or function, we do so to address a specific industry or customer need," says Brecher.
"Cameras have become so ubiquitous that people hardly notice them," says Brecher. However, there is a privacy concern, which is more about what is done with the recorded footage than capturing the images. To protect individual privacy, companies like Cathexis comply with privacy regulations such as GDPR in Europe and South Africa's Protection of Personal Information Act.
Centralized Video Management Systems
Cathexis also differentiates itself with its ability to centralize the management of thousands of cameras, integrations with third-party brands, and rapid searches for specific footage.
"One European retailer operates 68,000 cameras, with individual stores running as many as 500. While sites with large numbers of cameras are monitored locally, there is a central control room where technicians can manage every store. They can identify all the cameras, and what hardware is running on-site. They get basically a full asset management system. On top of that, they also receive any alerts if there's any technical failure," says Brecher.
The Cathexis system can even track unusual behavior. When linked to a retail smart shelf system, it can monitor pricey items. "A high-value item might be a bottle of Johnny Walker Blue Label. And if somebody takes more than two of those at a time, they create an alert. A camera pops up on a monitor, rings the manager in the store, and they can react immediately if an individual takes three bottles but only rings up one," Brecher says.
Another key feature is the ability to zero in on specific footage in seconds. In the days of tapes, fast-forwarding, or rewinding to a specific point could take hours, even days. Digital systems shorten searches, and AI has made them nearly instant.
Cathexis enables searches in several ways: its Snap Search finds specific incidents in seconds; Motion Search uses metadata to identify motion after the fact in a designated area; and Feature Search uses AI to refine searching. "Each one of those search features is used in different types of environments to find different things," Brecher says.
Cathexis supports a wide range of cameras—be they basic #monitoring devices, #AI-equipped cameras with #analytics, or thermal devices that detect infrared radiation. @CathexisTech via @insightdottech
It's usually up to the customer to decide what types of cameras to use. Cathexis supports a wide range of cameras—be they basic monitoring devices, AI-equipped cameras with analytics, or thermal devices that detect infrared radiation (for example, to enable firefighters to navigate through smoke).
Whatever the environment, Brecher says, Cathexis provides a cybersecurity layer to ensure connections between all devices are hacker-resistant. "We provide the software and we provide the interface to the cameras, to the recording servers, to the management servers, the clients, to the video walls, etc. So we've got to make sure that the interaction between those devices is secure," he says.
The Future of Video Management
Cathexis leverages Intel technology for video management and uses the the Intel® OpenVINO™ toolkit to develop its AI capabilities. "Intel is a very important cog in our wheel," Brecher says. "So it's imperative that our relationship with Intel remains strong."
According to Brecher AI will play an important role going forward, as video management systems become more intelligent. Among the uses he envisions is the capture of demographic data at stores for retailers to hone their marketing. Video Surveillance as a Service (VSaaS) is another area of future growth as customers move to cloud-based solutions for security.
Wherever the video management market goes, Cathexis is ready. After all, the company has already navigated the transition from analog to digital. "Our development teams continue to grow. We continue to develop product to satisfy market solutions, which means today we're just as competitive as we were 15 years ago, even with the new kids on the market," Brecher says.
Edited by Georganne Benesch, Associate Editorial Director for insight.tech.