Fill form to unlock content
Error - something went wrong!
Stay up-to-date with the latest IoT news.
The Doctor Will View You Now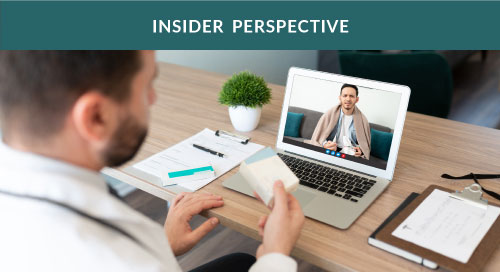 Telehealth may have felt like an adaptation to the COVID pandemic, but is it just a sign of the times? A glimpse into the future of healthcare? And how can healthcare organizations take advantage of the technology adaptations of the past 18 months to create better patient and caregiver experiences?
We talk with Peter Shen of Siemens Healthineers, a leading medical technology company, about key advances in healthcare technology, including the emerging role of AI and edge computing, the future of healthcare digitization, and how the concept of the "digital twin" could revolutionize patient treatment.
To hear the full conversation, listen to our podcast Digitize Healthcare (Faster) with Siemens Healthineers.
What are some of the key advancements in healthcare technology that you've seen during the past 18 months of the pandemic?
I think the pandemic just emphasized digitalization. It's helping in terms of trying to ease the burden that has been on our healthcare workforce.
Some of the initial lessons that we've learned here are that we need to be flexible, especially from a healthcare provider standpoint—trying to be able to manage changing demands on a temporary basis and trying to help scale based on the different needs of the patient population.
From a digital perspective, I think the pandemic really taught us to redefine the way that we deliver healthcare—forcing us to standardize and to try to efficiently manage operations. And then trying overall to reduce workloads.
Certainly, a lot of remote types of solutions came to the forefront here.
A lot of people also tend to forget that these remote and telehealth services not only benefit the patient but our caregivers as well. Our caregivers can use technologies to be able to, let's say, remotely monitor and operate a scanning device. For instance, if they need to take an X-ray or a CT or MRI scan of the patient, they can actually do things remotely, while sitting physically in a different geographical location or a different area of the hospital.
It's more than just efficiency and connectivity, but really the ability to allow flexibility, and to allow both the patient and the caregiver some ability to adapt to the changing environment.
"The #pandemic really taught us to redefine the way that we deliver #healthcare—forcing us to standardize and to try to efficiently manage operations." —@peteshen of @siemenshealthineers via @insightdottech
Cost must be an important factor here, too.
I think it's cost-effective being more efficient.
How can we leverage concepts like artificial intelligence to allow us to be more efficient in terms of when we're administering a test? And more accurate, or more precise, in the way that we're diagnosing those types of exams, as well.
I think digitalization has always been a desire for healthcare institutions, but certainly the pandemic has really accelerated the timeframe around that.
Where do you see AI and edge computing playing a role as we move forward?
There's been this exponential growth of healthcare data that contains a wealth of critical clinical and operational information to help treat the patient. The goal now becomes how to process all this data in a timely fashion so that we can deliver those important clinical results back to the physician.
We've got to focus on developing technologies and solutions that process these critical clinical findings as quickly as possible. And that's where the technologies like artificial intelligence become so important.
A great example of that is a new AI platform that we've created here at Siemens Healthineers: the AI-Rad Companion. It leverages artificial intelligence to process large amounts of imaging data to identify, characterize, and quantify clinical results automatically for the physician, so they can immediately review them and create a diagnosis.
How do you think the industry needs to continue evolving on this point?
We want to make informed decisions about what to do with a patient—whether in diagnosing or trying to treat the patient. So, it's not just the quantity of information, it's also ensuring that we have a high quality of information. And that means the accuracy, the completeness, the timeliness of the information—say if somebody is on the surgical table. It's so critical in terms of making an informed decision to have this high quality.
Another example is active participation of patients in their own healthcare—whether it's the wearables that we're all familiar with, or active engagement in terms of monitoring your vital signs and whatnot. Getting that information to the clinician becomes very important as well.
We have to have a digital health platform that can gather all these different, disparate, large amounts of healthcare data that we're talking about and try to consume all this information in a timely manner so that the provider can effectively see all this information and digest all this information in a really simple way.
There are a lot of different flavors of EHR (electronic health record) systems. What is Siemens doing to create a more standardized ecosystem?
There are several characteristics that are necessary for this digital health platform to be successful.
It needs to be accessible to broaden the digital portfolio of clinical and operational tools that might be available to the clinician or other end user. It needs to be flexible in order to leverage technologies and to allow for ease of deployment without dependency on technical limitations or infrastructure. It's got to be scalable to be able to facilitate organizational growth. And, finally, it's got to also provide interoperability to drive connectivity amongst different systems, and to simplify the whole concept of information sharing.
We've created a digital health platform, which we call the teamplay digital health platform, that brings together data and evolving applications to provide a unifying platform for accessibility, flexibility, scalability, and interoperability. It leverages the latest computing technologies that are out there and provides the flexibility to not only be a cloud-based solution but also an on-premises solution—or within the walls of the institution for security purposes.
What we want to do with our digital health platform is to really move away from having our end users—those clinicians—having to worry about technical limitations and technology challenges in order to get that critical clinical result.
What are you doing to make sure they get the performance they need?
We're creating on-premises solutions to make sure that we're delivering those results in a timely fashion.
It's leveraging cloud computing to be able to always make sure that our customers and those clinicians have the latest and greatest AI algorithm to be able to process those studies that are out there. It's edge computing—where we're able to take a hybrid of those scenarios to be able to deliver the result in a timely fashion. It's also leveraging the technology partners that we have.
We have a wonderful partnership with Intel®, for example, that is so critical to how our digital health platform works. The processing performance that we get from Intel to help us design our AI algorithms and deliver those critical findings that are assimilated by solutions like the AI-Rad Companion is so important.
What's great about our partnership with Intel is that their OpenVINO™ toolkit allows us to configure and optimize those different AI algorithms for our platform. And, quite frankly, it allows us on the Siemens Healthineers side to focus on developing our algorithms and clinical solutions to process those clinical findings, without having to worry about technical or infrastructure limitations.
One of the hallmarks of the AI-Rad Companion is that we run multiple AI algorithms at the same time on a particular image that's being processed by that solution. This is important from a practical sense because, in the real world, the clinician might not actually know what disease or ailment is affecting the patient. If I want to run multiple algorithms all at the same time, I have to have multiple computing powers, multiple capabilities. And this is where OpenVINO makes things so much easier for our team.
There are some really interesting opportunities for AI to go beyond individual diagnoses, and to better understand the patient as a whole—or even to know what questions to ask to begin with.
That's where we at Siemens Healthineers see the greatest potential for technology like artificial intelligence.
We really strive here to be that leader in clinical decision support—not only at the point of diagnosis, but through the entire care continuum for the patient. And that also means driving concepts like personalized medicine. It's not just trying to figure out what the right diagnosis is, but also maybe trying to figure out what the optimal therapy plan or treatment plan for that individual patient is.
We're in the process right now of developing another solution, which we call the AI-Pathway Companion. It is really looking to leverage patient data from all these multiple sources—not just imaging data, but also the patient's laboratory results, pathology report, or even their genomic data and history. Then leveraging AI to ingest all this information, to find correlations between all those different, disparate pieces of data, and then to analyze that data to create an optimized and personalized treatment plan for that individual patient.
How do you ensure that all these different solutions coming from different partners are able to work together in a secure and compliant fashion?
The great thing at Siemens Healthineers is that data security and patient information security is built in and inherent to the design of our solutions. It's the ability to compartmentalize the data—if it's not necessary, then let's remove all the patient information, all their PHI information, or protected health information.
That design thinking is inherent in all the products that we've created.
What else can we expect in this area of healthcare digitization?
We've talked about a couple of different concepts around leveraging technologies like AI.
I think what we see in the future is if we can assimilate all those different, disparate pieces of data—if we have information about your lab results and your pathology reports and your genomic makeup—what we're doing here at Siemens Healthineers is we can start to create a digital twin, if you will, of the patient. A digital replica of the patient.
That digital twin could be used to simulate different diagnostic or therapeutic decisions—to test them virtually and see what the response is of the virtual patient before we do that exam or do that procedure on the patient for real.
We can use that digital twin to help us drive concepts of wellness going forward.
Related Content
To learn more about the digitization of healthcare, listen to our podcast on Digitize Healthcare (Faster) with Siemens Healthineers.