Top IoT Influencers to Watch in 2022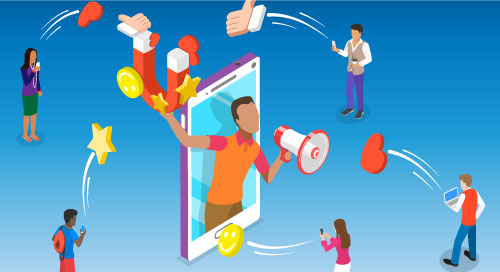 2022 is expected to be a transformative year for the Internet of Things. From digital transformation to AI, 5G, and edge computing—big changes are ahead. But it can be overwhelming to keep up with all the latest advancements. That's why we are working to make it easier for you.
At insight.tech, we pride ourselves on staying on top of all the latest tech, trends, and industry news. So we've identified eight of the top IoT influencers to watch this year:
Harold is a technology influencer, speaker, author, and digital consultant specializing in emerging technologies, digital transformation, and the future of work. Why follow this expert? He is continuously ranked in the top 10 for digital disruption and across frontier technology subjects.
Avrohom is focused on helping high and emerging technology companies reach their full potential. He works to amplify their marketing efforts, boost their engagement and reach, and become thought leaders for their industry. Follow him as he takes on all things AI, IoT, cloud, and cybersecurity.
Considered one of the foremost IoT thinkers in the world, Chuck has written multiple books on digital transformation, IoT, and business. He's even been named a New York Times bestselling business author. If you're looking to learn about emerging digital technologies, the Internet of Everything, AI, machine-to-machine, wearables, and more—Chuck has you covered through books, podcasts, and daily news.
Want a deep dive into deep learning and machine learning? Bestselling author Dr. Ganapathi Pulipaka has more than a decade of experience in both fields and will keep you up-to-date with all the latest AI news.
Check out eight of the top #IoT influencers to watch this year: via @insightdottech
Looking to expand your AI knowledge with cognitively inspired AI, machine learning, deep learning, computer vision, and smart healthcare content? Dr. Fei-Fei Li is the influencer for you. Especially if you're looking for a dash of cognitive and computational neuroscience.
This venture capitalist was the first international influencer to achieve Onalytica's "Triple Crown" ranking for his leadership in fintech, blockchain, and AI. He is also considered the number-1 fintech influencer in the banking community. If that doesn't have you convinced, check out his TEDxAcademy talk as well as his long list of accolades.
Giuliano is not only a digital thought leader but also founder of Digital Leaders—a global initiative to promote digital transformation. Having acted as a trusted digital transformation advisor to multiple companies and being on the forefront of emerging digital technologies, he can help support business growth and ensure you're adopting the right IoT tech.
As founder of Internet of Things Council, the largest independent IoT think tank, Rob paves the way for more robust, secure devices within the IoT and IIoT ecosystems. Give Rob a follow for the latest in IoT and the impact it has in the EU.
Related Content
Looking for more industry thought leaders? Check out our previous top influencers to follow from 2021, 2020, and 2019.
This article was edited by Christina Cardoza, Senior Editor for insight.tech.