Intel® Vision 2022: Your Roadmap for Edge AI Innovation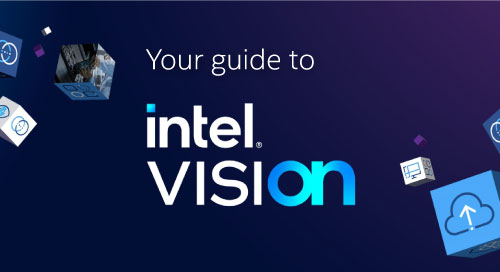 From healthcare to retail, factories to utilities, ubiquitous compute connected from edge to cloud has every industry on "the precipice of a digital renaissance." Speaking from Intel® Vision 2022, CEO Pat Gelsinger explained that the renaissance has commenced with the proliferation of AI.
"Every business is becoming a technology business," he said. "If you're not applying AI to every one of your business processes, you're falling behind."
While Vision 2022 concluded on May 11, there's still time to join thousands of business and technology stakeholders staying ahead of the digital transformation curve: Select content from the event is available on demand now for free when you register for a digital pass.
Registering for a digital pass will get you access to each day's keynote session, which included unveiling:
In addition, you'll see conference sessions that reveal how Intel and its partners use pervasive connectivity, computing, and edge-to-cloud infrastructure to help users improve business outcomes through AI at the edge. Full of technical strategies and hands-on demonstrations, they offer practical implementations of what Gelsinger describes as an "insatiable demand for compute and this increasing drive to deploy… AI inference solutions."
Here's a session guide to help make the most of your streaming experience.
Enable Ubiquitous Compute for AI at the Edge with OpenVINO™
Computer vision applications have undoubtedly been the first desirable apps for AI at the edge. So you shouldn't be surprised to find the Intel® OpenVINO™ toolkit at the center of many of the on-demand presentations.
"Every business is becoming a #technology business… if you're not applying #AI to every one of your business processes, you're falling behind." – @PGelsinger, @intel via @insightdottech
For instance, in "Accelerating the Deployment of Visual AI at the Edge," experts from Splunk and Scalers AI show how the toolkit is leveraged in the new Intel Video AI Box to bring real-time video analytics to traffic analysis, quality assurance, retail digital signage, and other use cases.
You can also watch how TIBCO paired the AI model optimizer with other open-source components like the EdgeX interoperability framework in Project Air—which uses the stack to provision IoT devices like multi-stream CV cameras with minimal code.
Plenty of Intel partner demos are also available for viewing in the virtual Ecosystem Technology Showcase. One worth checking out is CR2O's demonstration of ENTERA, a hyper-scalable, "privacy-aware" video analytics AI-SaaS platform rooted in OpenVINO.
Scale Machine Intelligence from Cloud to Edge and Back
But AI at the edge is only half of the OpenVINO story. In fact, it's only half of the AI story. Distributing AI across the edge-to-cloud continuum requires a complement of enabling technologies that transcend what any one company or technology can achieve on its own.
Discover collaborations that deliver verticalized end-to-end infrastructure in sessions like "Breaking Down the Data Deluge in Healthcare Using the Intelligent Edge," where a panel from Intel, Medtronic, and Caresyntax discuss how 5G, IoT, and AI are converging to redefine the medical field.
Another, "Unlock the Potential of Robotics in Retail, Industrial & Hospitality," highlights a compute and connectivity partnership between AAEON Electronics and Siasun Robotics that's driving rapid deployment of fixed, mobile, and collaborative robots.
Other can't-miss sessions on edge-clouds for industry include digital transformation leader Capgemini's "How Will You Build Smart Cities Infrastructure?" and "Grid Modernization and Sustainability," presented by Prith Khajuria, Intel's Director of Energy and Sustainability, who introduces an AI-powered foundation for bidirectional power grids of the future.
You can use the filter function when browsing the session catalog to find industry-specific content that fits your business needs.
Tie It All Together with Pervasive Connectivity
Of course, none of this is possible without persistent and pervasive connectivity that ties the training and intelligence of the cloud to endpoints and inferencing platforms at the edge.
Leading Industrial IoT organizations Red Hat, Audi, and Georgia Pacific share their experiences successfully implementing secure private networks in "The Industrial Edge: Digital Transformation Journeys at the Nexus of Compute & Connectivity."
And Nokia VP Christopher Jones continues the trend by discussing how private, on-premises wireless edge networks help accelerate the deployment connected of operational technology in enterprise, government, and municipalities with "Creating Business Value Through Industry 4.0 Digitalization and 5G."
Four Superpowers Drive Innovation: What's Yours?
Together, Gelsinger sees ubiquitous compute, pervasive connectivity, cloud-to-edge infrastructure, and paradigm-shifting AI as the "four superpowers" of innovation. And they come at a "strategic inflection point, a moment in time where things can go incredibly well or incredibly poorly."
The sessions and demonstrations outlined above are just a fraction of the Vision 2022 content available free on demand to help you chart the right course for your digital transformation journey. And you better get going, because as Gelsinger noted, "Transformation is inevitable; it applies to all."
Start shaping the inflection curve today by registering for the Intel® Vision 2022 digital pass.
This article was edited by Christina Cardoza, Associate Editorial Director for insight.tech.