Fill form to unlock content
Error - something went wrong!
Stay up-to-date with the latest IoT news.
Immersive Digital Signage Video Content Boosts Engagement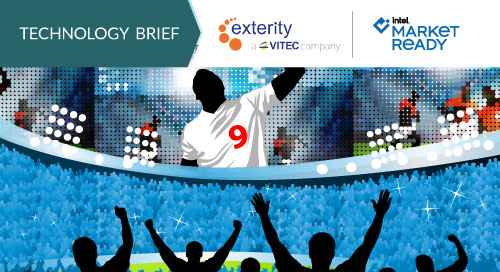 Say goodbye to boring signage. Attention-grabbing, knock-your-socks-off immersive digital signage video content is elbowing its more staid static cousins out of the way. It's also increasing revenue while enhancing customer engagement.
Colin Farquhar, Global VP of Sales of IPTV solutions for Exterity, a VITEC company that offers IP video, guest experience, and digital signage technology, can attest to this development.
When he recently took in a Golden State Warriors basketball game in San Francisco, Farquhar was wowed by the immersive video signage at Chase Center: "I've not been in an environment like that where the use of video signage has been so impressive and well used to support the overall operation of a facility."
Farquhar's immersive experience is what venue operators are betting on to boost fan engagement and drive revenue. Chase Center opened in 2019, boasting 9,699 square feet of video displays and the largest center-hung board display in an indoor arena.
"Video signage is increasingly pervasive and has evolved with a marked improvement in image quality, resolution, and a dynamo of a platform that supports it all," Farquhar says. He is especially struck by the seamlessness of the video delivery across multiple screens—additional boards synchronize with the center display—and the smooth transitions between types of content.
The Content Challenges
All that seamlessness takes a lot of elves in the workshop.
Making it look easy is hard. For one thing, security is a significant challenge. "Delivering content in a way that ensures its integrity from the point of origin to the point of display is key," Farquhar says. The challenge is especially important as video signage drives eyeballs in a variety of industries like retail, hospitality, hospitals, and offices, each of which might have different security protocols. When stakeholders play pass the baton in the content delivery relay race, too often security gets overlooked, Farquhar says.
Variability of network infrastructure is another headache, as streaming must contend with other services that hog bandwidth. "You can't always be guaranteed that you'll have the very best network available. If I'm running high definition 4K video content with color integrity reproduction, we're looking at very high levels of bandwidth requirements," Farquhar says.
Management of content delivery is another challenge that keeps producers up at night. While creating and delivering content for one display might be a straightforward exercise, deploying it to 1,000 is much more difficult. It's not just the mechanics of scale that is a problem. "Varying that content based on triggers that might be happening—there's different content for different quarters or break periods—while worrying about the performance of the overall network is a huge management challenge," Farquhar says. Measuring content performance and deployment increases complexity. "When third parties provide content, as in sponsorships, they want to know how that content is being used," Farquhar adds.
The future of #video #signage and streamed content will focus on seamless interactive personalization—whether on large screens or an individual #mobile phone. @Exterity via @insightdottech
Technology-Driven Solutions
Content managers use Exterity's IP industry expertise and video digital signage solutions to route content via existing networks and measure its performance at scale.
"We provide a range of management tools, which enables efficient monitoring of all the devices. This allows us to zone devices, target video content, play out schedules based on a whole range of the decisions around location, and so on," Farquhar says. "These can be very large, very complex systems, and there's lots of different content that has to be managed, coordinated, and tracked. And our tools facilitate all that for our customers."
Exterity uses Intel® technology to support video encoding solutions that create content streams for distribution through the networks their customers use. The Intel® Media SDK assures that the video is in the right format for the right device and is delivered effectively.
"Intel® technology is fundamental to the complete end-to-end solution that we provide to support video distribution and delivery to video signage," Farquhar says.
Digital Signage Video Content Drives Business Operations
That kind of support for video signage distribution has helped organizations in many sectors educate and delight their customer audience. Interactivity and personalization are key here. Exterity works with the cruise industry, for example, and integrates video across an entire ship, down to the guest rooms.
In-cabin screens present an additional opportunity to personalize the content and offer specialized promotions. Systems can leverage data from loyalty programs to tailor content. Video need not be for entertainment alone either. Exterity has also used video signage effectively to train bank employees.
The future of video signage and streamed content will focus on seamless interactive personalization—whether on large screens or an individual mobile phone. While some such personalization is already being delivered, glitches still abound. "The interactive experience is not quite joined up yet," Farquhar says. "In the future, we will see how more of these technologies blend together to provide a much more seamless and interactive experience."
Increasing 5G coverage will help solve some of the connectivity challenges—another exciting development to look forward to. Will we ever see a Minority Report-like situation where a Tom Cruise walking down the street will have an entire billboard tailored just for him? Sure, once we overcome privacy issues, Farquhar says, adding, "Proximity is an interesting concept that we're only just beginning to take advantage of. It opens up a lot of interesting applications."
Whether through the Chase Center jumbotron or down to your mobile device, the seamless and immersive qualities of video signage will hold your attention and drive operator revenue, or whatever business outcomes enterprises are looking to deliver.
So the next time Farquhar attends a Warriors game, he might receive an alert encouraging him to buy a Steph Curry T-shirt whenever the superstar nets a game-winning basket. Or, if you're a soccer fan, every time Cristiano Ronaldo nets a goal.
With video signage and content delivery, everybody scores—and everybody wins.
This article was edited by Georganne Benesch, Associate Content Director for insight.tech.