Hannover Messe Highlights Next Phase of Smart Manufacturing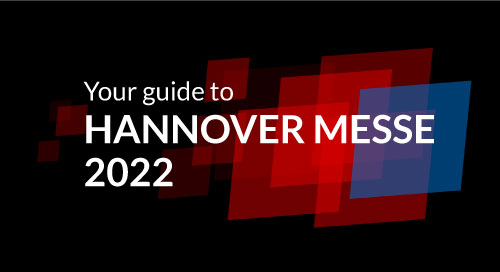 After two years of digital-only, this year Hannover Messe (HMI) was back in full force with a hybrid in-person and virtual event.
HMI is the premier global conference on all things industrial—from the hottest trends to cutting-edge tech to business transformation. From May 30 to June 2, attendees—both in person and online—got a glimpse of the latest innovations through keynotes, exhibits, panels, and more.
Couldn't make it to Nuremberg? Don't worry, we have you covered. Read on for what you need to know about Hannover Messe 2022, how the manufacturing industry is evolving, and the technology making it happen.
Edge Computing Unlocks Smart Manufacturing
One big trend at the conference was the use of edge computing in the industrial space to bring computation, connectivity, and data closer to where it's all generated—giving manufacturers better control, faster insights, and advanced operations.
But to take full advantage of edge computing and its benefits requires a combination of the right hardware and software. For instance, AI-powered video cameras connected to a manufacturer's network can monitor production lines. And IoT sensors and software carry out specific tasks, like collecting, processing, and analyzing machine data in real time.
Case in point is the Google and Intel® demonstration showing how they bring these cutting-edge capabilities to the factory floor. The two companies' Proof-of-Concept (PoC) combines the Intel® Edge Insights for Industrial open platform with Google Cloud's data, AI, and machine learning knowledge to provide real-time insights, streamline data analytics, and perform AI at the edge.
The Intel-Google PoC was just one example of how their combined technology can gather and analyze data from more than 250 factory devices using Google Cloud's Manufacturing Connect, a factory edge platform running on the latest Intel processors.
A big trend at @hannover_messe, was the use of #edge computing in the industrial space to bring computation, connectivity, and #data closer to where it's all generated. @intel via @insightdottech
The companies showed the PoC's effectiveness by capturing time-series data from robotic welders to inspect production quality and detect anomalies. See how else Google helps manufacturers improve production quality here.
And this is just one way Intel showcased how it works with partners to put data directly into the hands of workers. Also at the Google booth, Intel ecosystem partners Vecow, ADLINK, AXIOMTEK, and Portwell demonstrated how their industrial PCs use 11th Gen Intel® Core™ processors to deliver performance, functional safety, and AI-enabled platforms to manufacturing operations.
On the software side, VMware highlighted the benefits of edge computing with its VMware Edge Compute Stack, designed for running VM and container-based workloads at the edge. Its software-defined approach implements new processes, minimizes production delays, and protects against threats. At the same time, the platform is helping manufacturers reach their IT and OT environmental, social, and governance (ESG) targets.
Resilient and Sustainable Manufacturing
This idea of green energy and sustainable manufacturing was a big theme throughout the event. Manufacturers worldwide are putting immense resources into reducing their carbon footprint. VMware showed how its Green Metrics software can be used to reach company ESG goals by quantifying and visualizing energy and carbon at host, container, and app layers. Find out how else VMware empowers manufacturers.
Cisco hosted sessions about how manufacturers can make sustainability a reality by extending and optimizing legacy equipment with performance and inventory monitoring. The industry leader showed how business can be more resilient with hybrid work models that can sustain healthy, happy, and productive talent. Explore all the conversations here.
Talking about resiliency, Microsoft showcased Microsoft Cloud for Sustainability and how it enables organizations to monitor their sustainability progress and business growth.
But beyond sustainability, Microsoft wants to empower the frontline manufacturing workforce to take advantage of all the new capabilities in the industry. The company announced new updates to the Microsoft 365 software suite designed to connect and engage operational workers. Updates included Microsoft Teams enhancements, access to walkie-talkie capabilities on more devices, and new learning resources to train and upskill workers. Find out more about all the changes.
Looking toward the future, Microsoft also showed off Microsoft Cloud for Manufacturing, which tackles the industrial metaverse with AI, digital twins, mixed reality, and autonomous systems. Microsoft's full take on the event can be found here.
IoT and 5G in the Field
For industrial organizations that work in harsh environments such as mining, oil & gas, and warehousing, telecommunications company Nokia has them covered. Its ruggedized industrial devices are developed and designed specifically for these conditions. The company offers mobile devices that allow workers to communicate with push-to-talk and provide real-time access to video and data. Nokia's industrial tablets provide interfaces that can be used on the go to manage operations or apps in the field or on the move in vehicles. Watch the devices in action.
To bring all these technologies and advancements to life, Nokia and other companies like Capgemini provide a variety of options to connect machines, sensors, and systems together.
Nokia provides 4.9G/LTE and 5G industrial-grade private wireless networks to ensure critical workloads and operations are secure and reliable. And Capgemini showed how it helps businesses understand optimal use cases and the roadmap for their 5G journey. See how Capgemini shines a light on the future of the smart factory.
And that's just a few highlights from the event! Want to learn even more about how manufacturers can make digitalization and sustainability a reality? Head over to the Hannover Messe website and see what else the event had to offer.
This article was edited by Georganne Benesch, Associate Editorial Director for insight.tech.