embedded world 2022 & COM-HPC: Exceeding Expectations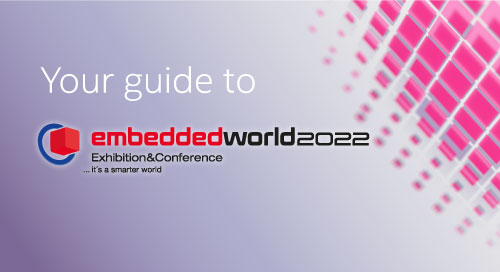 By almost every measure, the 2022 embedded world Conference & Exhibition was better than expected. Show attendance rebounded to more than 18,000 embedded technologists, a 50 percent increase over 2020. Another 3,900 participated in the show's nascent digital and hybrid content. And on the vendor side, 720 exhibitors from 39 countries demonstrated their proficiency in IoT, edge AI, and functional safety electronics.
Events like embedded world are an opportunity to step away from engineering benches and take in new trends, techniques, and solutions shaping the next generation of intelligent, connected electronic systems. That was certainly the case this year, where a new young cohort of technologists made their intentions of moving the IoT from prototype to production known.
In concert, there was also considerable momentum around shifting from prototyping hardware to production-ready solutions at the show's booth demos. And many of these were built around PICMG COM-HPC and 12th Gen Intel® Core™ processor-based devices (previously codenamed "Alder Lake").
COM-HPC is a next-generation #computer-on-module standard that defines a series of higher-speed, higher-performance, and higher-power client- and server-size modules designed for next-generation #edge workloads. @embedded_world via @insightdottech
COM-HPC is for Real, and It's Edge-Ready
As an open industry standard being released live on a big stage for the first time, it should come as no surprise that the new COM-HPC family of computer-on-module specifications was well represented at embedded world 2022. But "well represented" might be an understatement, as companies like ADLINK Technology, Advantech, Avnet Embedded, congatec, Kontron, SECO, and more made it a centerpiece of their show activities.
COM-HPC is a next-generation computer-on-module standard that defines a series of higher-speed, higher-performance, and higher-power client- and server-size modules designed for next-generation edge workloads.
Christian Eder, Chairman of PICMG's COM-HPC working group and Director of Product Marketing at congatec AG, a leading supplier of embedded computer modules, was at the event to launch the new standard. He explains how the upgraded COM-HPC connector almost doubles the pins of previous-generation standards and supports interfaces like PCIe Gen 4, 5, and 6 and 25 GbE to deliver unprecedented bandwidth for edge systems (Video 1).
This allows end users to fully utilize the unique performance of new Intel® Xeon® D and 12th Gen Core processors in a multi-vendor, off-the-shelf solution that safeguards technology investments.
Another benefit is that larger COM-HPC form factors dissipate more heat, which opens a path to higher-end processors like those just mentioned at the far edge (Video 2). This also happens to positively impact connectivity, as some of these processors—like select 12Gen Core devices—support emerging technologies like Ethernet Time-Sensitive Networking (TSN), according to Kontron, a leader in embedded computing technology.
The Wide World of COMs
Avnet Embedded has also seen increased interest in COMs across the board since the pandemic pushed supply chain issues over the tipping point, as a COM-based approach can reduce development time, complexity, and deliver most of the electronic components required by a system design from a single source. At the show, the company discussed how its in-house design expertise and partnership with Intel helps drive intelligence into end markets ranging from smart agriculture to electric vehicle charging (Video 3).
On the data logging front, ADLINK Technology enables the IoT edge with COM-HPC by taking advantage of the expanded pinout in systems like rugged industrial servers. At the show, the company explained how this flexibility—along with the longevity afforded by replacing COM-HPC modules but retaining application-specific carrier boards—combines with the company's Edge IoT software stack to help companies quickly connect applications with cloud providers like AWS, Microsoft, or other server infrastructure (Video 4).
SECO is another company working to push data from the edge into intelligent cloud-based applications using a flexible software platform, Clea, which SECO's CPO Maurizio Caporali described at embedded world (Video 5).
To serve the diverse embedded market, the Clea Edge SDK interfaces data from a range of targets, including power-efficient Atom®, Celeron®, and Pentium® modules and high-performance computing 12th Gen Core and Xeon D processors devices with integrated functional safety capabilities. In addition to COM-HPC, these solutions are also available in industry standards like SGeT's SMARC and PICMG's COM Express.
It's important to note that the introduction of COM-HPC doesn't mean the end is near for other standards like COM Express at all. Claus Giebert, Business Development Manager for embedded and automation solutions provider Advantech, responsible for CPU-based COMs, revealed why "COM Express, for many existing application areas, will remain the dominating form factor for many years to come." (Video 6). For those needing faster data transfers, more I/O, and higher performance, COM-HPC offers a path forward.
But there's also the option of merging next-generation processors with current-generation standards. For example, during the exhibition, Prodrive Technologies introduced its 95 mm x 95 mm Atlas 12th Gen Series COM Express Compact Module based on i3, i5, or i7 P-series Core™ processors (Figure 1).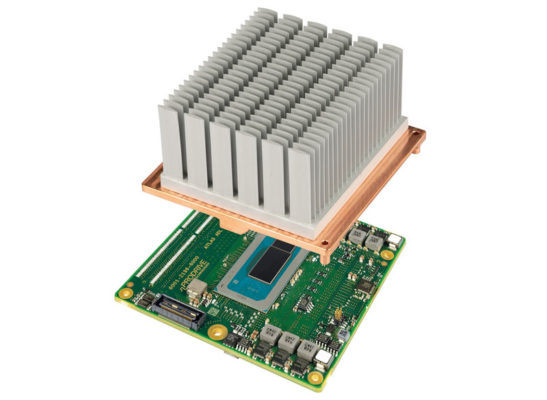 Alder Lake Everywhere
Of course, Intel technology on display at embedded world 2022 was not limited to just COMs. Elsewhere, companies showcased their latest solutions based on 12th Gen Core processors in all manners of form factors and systems such as the Supermicro SYS-111AD-HN2 1U Embedded Systems and SYS-E300-13AD Mini-1U Super Servers.
The key takeaway is that more so than in normal years, the return of embedded world injected a lot of newness into the embedded-technology sector. New 12th Generation Core™ processors could be found almost everywhere, and new industry-standard form factors capable of supporting them like COM-HPC were widely available. A sizeable number of new-to-the-industry developers were also in the crowd, preparing to usher in a new phase for connected embedded and IoT systems: mass commercial deployment.
Together, all this suggests big things are in store for the next iteration of edge computing.
This article was edited by Christina Cardoza, Associate Editorial Director for insight.tech.